Butler County United Way president and CEO retires
After seven years of service as Butler County United Way's president and CEO, Margaret (Mags) Baker is retiring. With a replacement search underway, Baker hopes to finalize her retirement by Feb. 28, 2021. 
Baker, born and raised in Oxford, has been with United Way since October 2013 and has made many strides for the Butler County program during her years. One of her proudest accomplishments was merging the Oxford and Butler County United Way programs to provide more support to her hometown. She also is proud of how transparent the organization has become with posting financials online. 
"I feel like I've gotten the organization to where I wanted it to get to," Baker said. "It's been a labor of love."
Baker said streamlining operations and implementing policies has been crucial for the organization's growth. She has made the organization more collaborative and has helped more people through monitoring partnerships.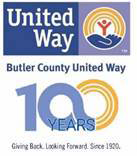 "We helped over 57,000 people with our partner agencies," Baker said. "We actively vet and measure agency results." 
The board of directors is actively searching for Baker's replacement. The position is posted on Indeed.com and through United Way worldwide. The board has already started receiving strong applicants. Applications will close on Dec. 31 and interviews will begin shortly after the new year. 
"I think we'll find the right fit," Baker said. "I'm very confident in the board." 
According to a press release sent out by the agency, Baker's retirement is following a three-year strategic plan that has been developed by board members, partner agency leaders, donors and community officials. This plan will make for a smooth transition. 
Baker is appreciative of how far they've come but knows it doesn't stop there. In the coming years, she said she foresees more community conversations about the gaps in service that need to be addressed. She said she thinks the organization will become more collaborative with the community over time. 
"We are a central voice in the community," Baker said. "We try to take on some of the daunting social problems." 
Baker said she will miss the people the most. Over the years, she made connections with staff and community members that impacted her. 
"It's a people business and that's what I'll miss the most," Baker said. 
Throughout her career, she has also maintained involvement in the community. Now a Hamilton resident, Baker's involvement also included serving on the board of education for Hamilton Schools, as the vice-chair for the Greater Miami Valley YMCA and as a member of the Hamilton Rotary.
She plans to continue serving in her community, but wants to enjoy time with her family. She plans to visit her daughter in Raleigh, N.C. and spend more time with her husband. 
"I'll still be active in the community and volunteer," Baker said. "I'm not moving out of town." 
Though it is a bittersweet transition, there is a plan for the organization and new opportunities for Baker. 
"I've had a long fruitful career," Baker said. "I've been blessed and now it's time to move on to my next adventure."