Miami Art Museum remains open both in person and virtually
In a time of pandemic and political uncertainty, Miami University's Art Museum remains open as a free way to connect to humanity and enjoy the beauty found within shared art. The public has the option to view the galleries in person or virtually.
Ticket reservations for in person gallery viewing can be found at the Art Museum's website and the museum is open from 10 a.m. to 5 p.m., Monday through Friday at 801 S. Patterson Ave. 
With COVID-19 regulations in place, no more than 20 people can be in the museum at one time. Mask-wearing is required, social distancing enforced and there are hand-sanitizing stations throughout.
Guests have the option to peruse the gallery and view the pieces on their own or be guided by a museum volunteer.
"The biggest challenge is not having as many people come in as they usually would pre-COVID-19," said Jason Shaimon, the museum's curator of exhibitions.
Other options for viewing are the virtual galleries, which can also be found via separate links on the museum's website. 
"When COVID-19 hit last March, we immediately began transitioning our exhibits online," said Sherri Krazl, the museum's coordinator of marketing and communications, who has worked hard to create accessible, online gallery viewing.
"For lectures and events regarding the galleries, we have been utilizing WebEx," Krazl said.
And as with any technology platform, kinks are inevitable. 
"My biggest worry has been to make sure everything runs smoothly and stays consistent," Krazl said. 
Viewing may be done in person or online 
The gallery lineup for this Fall of 2020, featured both online and in person include: "Broadsides & Calaveras" by José Guadalupe Posada, "Chasing Light: Black and White Photography," and "Rebuilding European Tourism: Travel Posters and the World Wars."
The benefit to all of these gallery collections is that they are two-dimensional works, which made their virtual transition both easy and accurate.  
"The positive thing to come out of the pandemic has been the accessibility of offering the galleries online," said Krazl.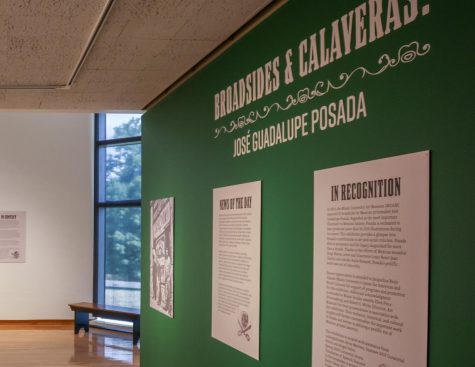 The first gallery, "Broadsides & Calaveras," a collection of prints featured in broadsheets that were printed in Mexico City around the turn of the twentieth century. "Broadsheets" is a term that refers to full-sized newspapers, which in Mexico often included satirical, social and political commentary. 
This exhibit specifically appeals to those who have an interest in printmaking, as Posada's work is both illuminating and relatable.
The second gallery exhibit, "Chasing Light," offers a variety of different photographers' black and white photographs.
According to Shaimon, the theme of the exhibit is to look at how photographers handle the concept of light, an essential component of photography.
"This exhibit greatly appealed to my passions," said Ron Stevens, director of the Miami University Art Center.
Some of the famous photographers among the 17 included in the exhibit are Steve Shapiro and Ansel Adams. The exhibit has 31 photographs.
This particular exhibit has a special connection with one of the permanent displays at the museum, The Charles M. Messer Leica Camera Collection. A German camera brand, this collection of cameras highlights the beginnings of personal photography.
"There are about one-tenth of the actual collection on display because we have so many," said Krazl.
With over 1,200 cameras, the display reveals the timeline of cameras and connects well to photography exhibits, such as "Chasing Light."
Showing off a timeline of photographic art
According to Krazl, this exhibit is part of the FotoFocus Biennial, a regional, month-long celebration of photography and other lens-based art.
Having taught photography for many years himself, Stevens was selected to be part of the team that Shaimon assembled to pick out the photography pieces that were to be included in the exhibit. Stevens helped evaluate and narrow down the selection from 400 photographs.
"Art is something that takes on various forms and has the power to connect all human beings," said Stevens passionately.
Furthermore, according to Stevens, whether it be to collectively reconnect, for an enjoyable diversion, or stress reliever, art is there to serve as a reflection of our experiences.
This belief translates to the last exhibit of Miami's Art Museum's gallery, entitled "Rebuilding European Tourism: Travel Posters and the World Wars."
"This includes a variety of travel posters that reveal facts about travel and tourism during the interwar period," said Shaimon.
The posters reveal methods of rallying people's interest in traveling and how this positively affected European growth. 
When a group of Black athletes stood up to the Nazis
At 3 p.m. on Monday Nov. 16, Miami University Global & Intercultural Perspectives professor, Rodney Coates, will give a virtual talk about the exhibition program tied with "Rebuilding European Tourism: Travel Posters and the World Wars."
Entitled, "Standing up for Freedom: When Hate was in Vogue," Coates will speak about the 18 African American athletes who took on Hitler and Nazi Germany in 1936 at the Berlin Olympic Games. Silencing questions of scientific racism at the time, this was a day to remember.
The link to this virtual event can be found on the Art Museum's website.
In addition to this lecture, the Art Museum also offers two permanent gallery exhibitions both virtually and in person.
The first, Art History at-a-Glance, offers viewers a collection of two-dimensional art pieces and provides a history of European and American art from the late 1400s through the mid-1900s. Notable artists include Rembrandt van Rijn, Pablo Picasso, and Andy Warhol.
According to Shaimon, pieces are switched out of this exhibit every two years or so. 
"Part of our job is to develop these exhibits, but the other part is preserving them," said Shaimon.
The second permanent exhibit featured is the Global Perspectives exhibit, which dives further back into history. Exploring world cultures, such as ancient Mesopotamia, Egypt, Pre-Columbian, Mexican, and African cultures, this exhibit has a cross section of two-dimensional and three-dimensional works.
The Art Museum offers a variety of art forms, artists and cultures to be explored either in person or virtually.
"It was very challenging to go from being open to the public, to closed during March of last year. We just want to give people the opportunity to be able to enjoy the art," said Krazl.
During COVID-19, so many practices of daily life and outside activities have been forced to a lull. Miami University Art Museum has worked to offer people the experience of art in a way they feel comfortable.
"Art holds our perceptions, hopes, and dreams throughout our existence," said Stevens. "Now, more than ever, people need art."