Positive COVID-19 cases in Ohio continue to skyrocket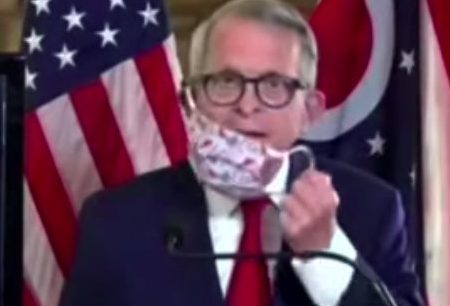 COVID-19 cases continue to surge. For the third time this week, Ohio has broken its record for the most COVID-19 cases in a day when it reported 4,961 cases Thursday, Nov. 5.
Ohio Gov. Mike DeWine acknowledged the record-breaking day in a press conference.
"Sadly, we have a shockingly high number of cases. 4,961," DeWine said. "This is an all-time high. And to put this in perspective, about a month ago — about four weeks ago — that number was about 1,000. So now it is five-fold up and seemingly continues to go up all the time."
Ohio reported more than 17,000 new cases of COVID-19 in one week, from Oct. 30 to Nov. 5.
Additionally, DeWine said every one of Ohio's 88 counties is now classified as having a high infection rate for COVID-19.
"It is everywhere," DeWine said. "You can't hide from it. We can't run from it. We've got to face it. And we have to deal with it. And so, no matter where you live in the state of Ohio you now have high incidence — sadly — you now have high incidence of COVID in your county."
The surge comes less than a week after some gathered for Halloween festivities and just two days after many reported to the polls for in-person Election Day voting.
DeWine said he thinks that with election season over, Ohioans need to refocus their attention on stopping the spread of COVID-19.
"This virus doesn't care whether we voted for Donald Trump, it doesn't care if we voted for Joe Biden. It's coming after all of us," DeWine said.
In Butler County, more than 10,000 people have contracted the virus since the spring and 134 have died.
At Miami University, cases are down. Miami reports 44 students and five employees have tested positive in the 14 days prior to Nov. 3.  Miami continues to require students to participate in wide-net surveillance testing and will end its in-person semester before Thanksgiving as a precautionary measure against students going home and bringing the virus back to campus.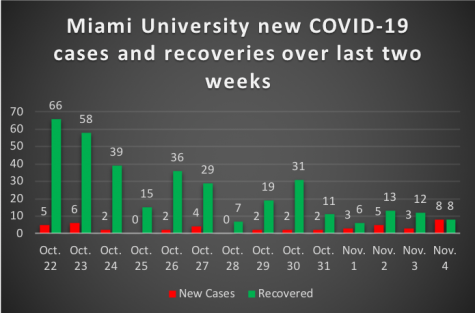 At the Nov. 3 Oxford City Council meeting, Assistant City Manager Jessica Greene said the university reported to the city that it has disciplined 77 students so far this semester for violations of COVID mask and social distancing guidelines and has another 62 cases awaiting resolution. In some cases that discipline has resulted in suspensions, according to Greene. 
Ann James, director of the office of community standards at Miami, said Miami punishes students who fail to comply with COVID-19 guidelines with either disciplinary probation or suspension after evaluating reports of possible policy violations.
"Of the cases that we have heard related to COVID-19 safety, we have found about half of the students responsible for one or more charges and assigned disciplinary probation or suspension as a sanction," James said.
James said Miami will not comment on specific cases due to federal student privacy laws.
To avoid contracting COVID-19, the CDC recommends
avoiding close contact

covering your mouth and nose with a mask when around others

covering coughs and sneezes

cleaning and disinfecting

And monitoring your daily health 
In the closing remarks of his press conference, DeWine urged Ohioans to wear their masks.
"We can do most of the things we've always done, we just have to do them differently," DeWine said. "I've used the example of Fran and I going over and seeing our grandkids — we just do it differently. We still see them. I think it's not either-or. It's not shut the thing off completely, it's figuring out how to do it. And by and large, the wearing of a mask dramatically changes your odds.
"… We need to take the knowledge that we've acquired collectively over the last few months and then use that as we make decisions moving forward."
Collectively, COVID-19 has killed more than 5,400 Ohioans and over 234,000 people in the U.S.