Local resident offers voters rides to polling places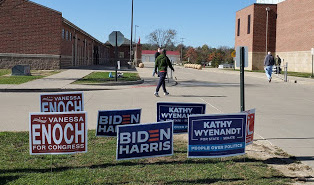 Knowing some registered voters would not be able to make it to the polls themselves, Kat Magnone offered to help. 
Magnone posted to two Oxford Facebook groups, offering rides to anyone who needed a way to get to and from their polling precinct. She said this had been an Election Day tradition for her since 2014 when she lived in California. After moving to the Oxford area recently, she decided the tradition should continue. 
"When I would do this in California, I would get a lot of people just because of the population," Mangone said.  "It was nice to even get a couple people who otherwise wouldn't have had a way to get to the polls."
Magnone is not campaigning for any candidates or working for any political group. In fact, she said she tries to keep politics out of it.
"(I give rides to) just anyone who needs to get to the polls," Magnone said. "I try to remain relatively apolitical in my stance."
Those accepting rides this year were asked to wear masks and Magnone said her van was set up to allow as much social distancing as possible.
This year in Butler County, more than 100,000 votes were cast, leading to a 71.53 percent turnout of registered voters. That number exceeded the 2016 turnout by about 8,000 votes. 
Just over 70,000 of this year's votes were cast in person on Election Day, said Butler County Board of Elections Deputy Director Eric Corbin.