Oxford Empty Bowls goes virtual for 18th annual event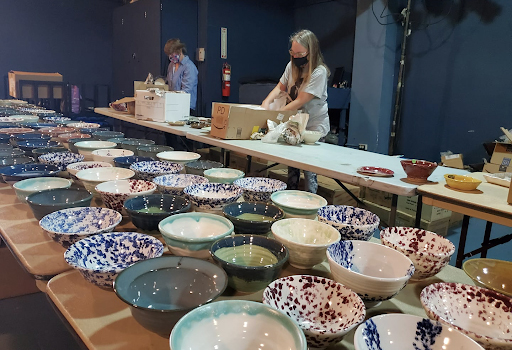 Amid COVID-19, Oxford Empty Bowls has shifted its annual luncheon to an online bowl sale lasting from Nov. 1 through Nov. 13. Additionally, a walk-up pottery sale/pick-up event will be hosted from 9 a.m. to 2 p.m. on Saturday, Nov. 14 at the Oxford Community Arts Center (OCAC).  
The virtual bowl sale will launch on Oxford Empty Bowls' website and feature a variety of pottery. In the past, local contributors included: Kramer Elementary School, Miami University's Opening Minds Through Art and You're Fired.
People coming to the bowl pick-up can register online, where eight slots are available every 15 minutes in which a volunteer will run out all purchases to the owner's car. 
Bowls are between $10 and $20 each. Other pottery items vary in price and can be as inexpensive as $5 or under. 
"Because we can't do the luncheon, we are encouraging families and friends to gather together for a meal using the bowls they purchase," said event co-organizer Connie Malone. 
Pandemic practices will be in place for the walk-up pottery sale, with required mask-wearing, gloves, hand sanitizer and social distancing. 
A 30-year history of fighting hunger
Empty Bowls is an international hunger relief effort started in 1990 by John Hartom, a Michigan art teacher who was looking for a way to involve his students in a local food drive. 
It was not long until Empty Bowls spread to other communities across the country and globe, spreading to over 20 different countries.
Empty Bowls came to Oxford in 2002, when Camilla Flinterman and Alice Laatsch combined their efforts to introduce it to the community. Originally hosted at the Oxford United Methodist Church, the local event expanded and eventually outgrew that venue.
In recent years, the annual luncheon was held at the OCAC, which has given the event room to expand and include more community members, as well as foster a deeper connection to the arts.
"What makes this organization so special is that each event is intrinsic to the community in which it's held, but all have the united goal of aiding hunger relief," said Laatsch. 
Malone joined the team in 2003, assisting with local publicity for the event, and just three years later, took on the responsibility of co-organizer when Laatsch and Flinterman stepped down.
Pre-COVID-19, about 700 community members — volunteers and guests alike — attended the annual luncheon, buying a bowl and enjoying the home-made soup.
With this community-based aspect, it made the goals of the event easy to achieve.
According to Malone, the four goals of Empty Bowls are to raise funds, spread awareness, engage arts in service projects and build community. 
People of all ages and ethnicities, and both Oxford residents and Miami University students, engage with one another and bridge the town and gown divide. 
"There is such a spirit of inclusivity," said Malone.
Local businesses also get involved, by either donating or sponsoring the event. According to Malone, in the past, LaRosa's Pizza has donated paper plates and plastic silverware, Skyline has donated their classic oyster crackers and Miami University Credit Union would cover the cost of printing, beverages and signs. 
While the luncheon is not taking place this year, local businesses and organizations are still participating, and community members are encouraged to browse the online bowl sale. 
"It looks a lot different this year," said Laatsch.
Food security more important now than ever
With the impact of COVID-19 over the past year, food insecurity is a heightened concern, which makes Empty Bowls' event that much more necessary. 
Ever since it was first established, Empty Bowls has embodied its mission in creating community via service and art. 
While the participating communities fulfill the goal of raising money for food scarcity in the corresponding areas, there is an element of individuality for each.
The way in which money is raised and how the community chooses to gather is entirely up to them.  
The four organizations that Oxford Empty Bowls supports are Talawanda Oxford Pantry and Social Services (TOPSS), Open Hands Food Pantry, Miami Cares Pantry and St. Mary's BackPack Program.

"There is a perception that there is affluence across the board for Miami students and this is just not the case," said Malone in reference to Miami Cares Pantry, which works to serve university students in need. 
These organizations all serve the community in different ways. The St. Mary's BackPack Program provides elementary students in the Talawanda School district with weekend meals. The Open Hand Food Pantry is a non-profit aiding food insecurity in the Oxford and Hamilton areas. 
TOPSS has been supported by the Oxford Empty Bowls event since the early stages. Ann Fuehrer, the director of the pantry, is glad to see the inclusion of more pantries and organizations these past few years. 
About 8 percent of TOPSS' income comes from the Empty Bowls donations. 
"We really love Empty Bowls for the event itself and the financial donations," Fuehrer said. "It brings awareness and the community together in fun and creative ways to address the needs of people who experience food insecurity."
Program supported by a variety of artists and contributors
Oxford Empty Bowls is not a one-man-show. It has many contributors that make this event possible for the community. 
Robert Abowitz, has been crafting and donating bowls since 2004. Abowitz is the associate director of residence life at Miami University by day and an amateur potter by night.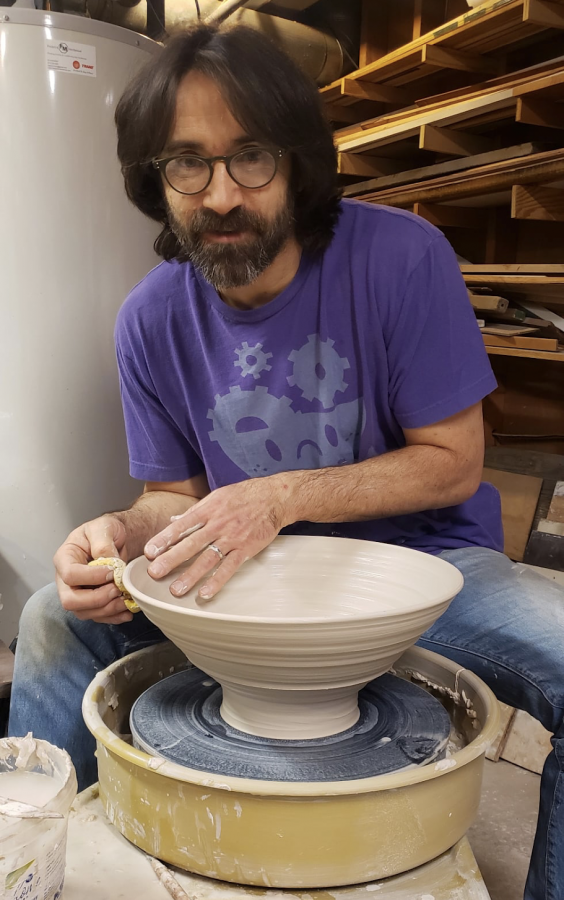 "I've been throwing pots since I was 14-years-old," Abowitz said. "Those early ones were not very good."
Abowitz developed a studio in his house for pottery, complete with his own kilns to fire his work. 
"Over the years, I've thrown a lot of bowls for this event," Abowitz said. "This year I provided 95 bowls." 
"Throwing" is a pottery term which means to create pottery on the wheel. 
These bowls take time and effort to create and are unique works of art that community members can purchase. Abowitz has been working for the past month to create his bowls. 
"In the evening, I'll go into my studio and throw for a couple of hours and do that for a week," Abowitz said. 
Throwing clay on the wheel takes about four minutes with his experience, Abowitz said. After the bowl is formed, it has to dry until it's "leather hard" which is usually overnight. He trims and signs it, and dries it until it is "bone dry," which takes a couple of days. The bowl is then bisque-fired in a kiln, glazed, and fired again. Each round in the kiln can take 8-12  hours with 24 hours to cool. 
"How long it takes to make a bowl is a complicated question," Abowitz said. 
Abowitz looks forward to the annual luncheon and how it gathers the whole community, though it will not happen this year. 
"It's unfortunate that we are unable to gather this year to raise the amounts of money that we normally raise," Abowitz said. "This year more than ever our community needs support."
Despite this disappointment, the sale this year has a benefit for shoppers.
"The benefit of being online is that supporters can pick and choose from all the bowls at one time," Abowitz said. "Normally, we stagger how the bowls are put out."
Malone said that Abowitz was essential to moving this event to an online sale and his energy is unparalleled. 
"Without Rob, we wouldn't have been able to go virtual," Malone said. "He has been the tech wiz behind the scenes," said Malone.
In addition to pottery and art contributors, Oxford businesses have been pitching in as well. For the first time ever, Oxford To You is collaborating with Empty Bowls.
For the entirety of the online bowl sale, for every order they get, Oxford To You is donating 10 percent of the profits to the organizations supported by Empty Bowls. 
Every year, businesses reach out to Malone to get involved. 
"People just love Empty Bowls and what we stand for," said Malone.