Blue-collar workers to play critical role in upcoming election results
President Donald Trump's 2016 nomination was clinched in the Rust Belt where Trump swept Michigan, Ohio, Pennsylvania and Wisconsin — key swing states in presidential politics.
Trump won the Rust Belt, characterized by its factories and as the home of America's automotive industry, with the votes of blue-collar, working-class Americans. Trump's support among this group of voters drove Democratic nominee Hillary Clinton to have the lowest support among union workers of any Democratic presidential candidate in the previous 20 years and support that was 10% lower than President Barack Obama had in 2012.
But in the midst of the COVID-19 pandemic, Trump might not be able to gain that same support. 
According to data from the US Bureau of Labor Statistics, Michigan, Ohio and Pennsylvania are all experiencing unemployment rates over 8%, and Wisconsin's unemployment rate is more than 5%. Based on 2020 polling averages, Trump is behind Biden by eight points in Michigan, five points in Pennsylvania and nine points in Wisconsin. The candidates are even in Ohio, with just five days until Election Day. 
American Federation of State, County and Municipal Employees (AFSCME) local 209 is a union of Miami University workers including dining hall and custodial staff, electricians and groundskeepers. About half of the approximately 660 such workers at Miami belong to the union.
Jacob Bryant, general secretary and officer on the executive board of AFSCME local 209, said there's a noticeable difference in attitude on the current presidential race compared to 2016.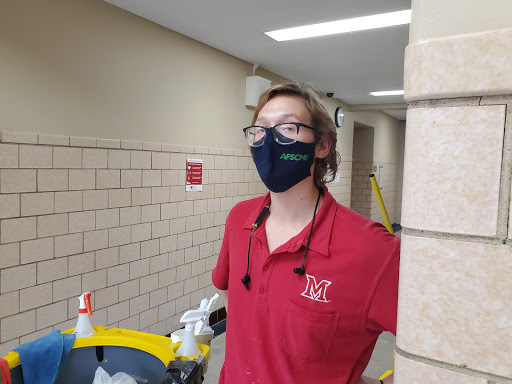 "There was way, way more opposition to Hillary Clinton's candidacy on the local level than there is to Joe Biden's candidacy," Bryant said. "He's doing a lot better at speaking to economic issues and speaking to working-class Americans directly, whereas Hillary Clinton didn't really do that — she spoke to the middle class.
"None of us working folks are middle class — we've never had any money, we don't expect to have any money," Bryant said. "We're blue-collar folks."
Nationally, AFSCME, which has more than 1.4 million members, endorsed Joe Biden. 
"He has a gut-level understanding of the challenges and struggles keeping working families awake at night," AFSCME National President Lee Saunders said in a March press release. "He knows that the union difference means better jobs and stronger communities, an economy that extends opportunity to everyone, not just the wealthy and well-connected." 
AFSCME National hosted Biden at a virtual convention in August, and Biden spoke to AFSCME workers about the importance of essential workers and the stakes of the upcoming election.
Kevin Reuning, assistant professor of political science at Miami who studies social movements, said union endorsements at the national level could play a role in determining how voters choose to cast their ballots. He also said that local unions endorsing a candidate would likely play a larger role in members' decision-making than national endorsements. 
"Generally (an endorsement) is a cue to (members) that this is someone we can trust with our interests," Reuning said. "So AFSCME national endorsing (Biden) is going to demonstrate to their members that Joe Biden is the one that is going to have more of their interests in mind. That said, partisanship probably plays a more important role to most of their members than the actual endorsement of the national."
Despite AFSCME national making clear endorsements, Miami's AFSCME local 209 chooses to remain apolitical. 
Local 209 President Jeff Mills, a Miami electrician, said being apolitical helps avoid deterring union membership. Since he's been president, AFSCME local 209 has more than doubled its membership.
"Our challenge is to keep (politics) out of here as much as possible — some people are left, some people are right," Mills said. "I don't care how far left or how far-right someone is, I still need them in the union."
Mills and Bryant said AFSCME local 209 encourages its members over Zoom conferences, Facebook and its newsletter to vote and participate in the upcoming election. "This country would be better if every single citizen that could vote, would vote," Mills said.
"We absolutely are doing as much as we can to get everyone out to vote, but we're allowing folks to vote on their conscience. And we support our members and trust our members to vote in their best interests and their families best interests as well," Bryant said.
Mills emphasizes that a diversity of ideas are welcome within AFSCME 209, and said his ideology leans conservative. Mills said despite the AFSCME National endorsement, he'll vote for Trump because he supports police unions (and worries Democrats won't) and because he's happy with where the economy is at. 
"As an electrician, my trade has never been more valuable," Mills said. "The job numbers are what they are. Now, does that mean I believe in everything Trump does? Absolutely not."
Bryant said he voted for the Green Party in the 2016 election but that he will vote for Biden this time around.
"The stakes are way too high to vote third-party now," Bryant said. "Donald Trump, I believe, is the greatest existential threat this country has ever seen in its modern history."
Bryant said labor and peace and war are usually the issues most important to him, but that Trump not directly addressing systemic racism is what he thinks makes this election so important.
Bryant added he thinks he'll be one of many blue-collar voters swinging their vote away from Trump. He sees Trump's rhetoric as demeaning to America's working class.
"Donald Trump has always shirked trade unionists and always talked them down, always insulted trade unions, always claimed they were a cause of inefficiency in the economy," Bryant said. "That's one thing I'm sure Joe Biden would not rival… And in fact, looking at (Biden's) platform, it's actually very good — at least kind of chipping away at something like the Taft-Hartley Bill, chipping away at right-to-work laws."
"Joe Biden has much more of a mythos around him of a working-class man," Reuning said. Reuning also said he could see Biden winning more blue-collar voters than Clinton won in 2016.
Blue-collar votes could help Biden win back the Rust Belt for Democrats, and propel him to the presidency. 
While these voters, many of whom are essential workers, stand on the front lines to help America weather the storm of COVID-19, it seems only fair they'll play another critical role in deciding a presidential election.
Election Day is Nov. 3. Voters can also cast their ballots early at their county's board of elections.