COVID-19 cases surge in Ohio while cases on campus plateau
For the first time since students returned for fall semester, Miami University reported no new cases of COVID-19 on Sunday, Oct. 25.
After weeks of Miami being Butler County's top hotspot for COVID-19 cases, Miami reports fewer than 150 students currently have the virus, and 95% of its residence hall floors have not had a positive COVID-19 case in the last week.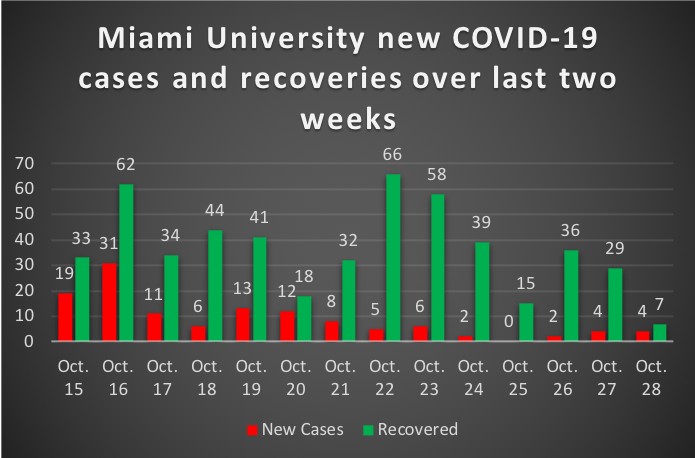 Meanwhile, cases in Ohio continue to skyrocket and Ohio Gov. Mike DeWine announced in a press release that 82 of 88 of Ohio's counties are now considered to have a high incidence rate of COVID-19, meaning there have been at least 100 cases per 100,000 residents in the past two weeks.
"As the virus spreads in the community from gatherings where people aren't wearing masks or social distancing, it directly impacts our ability to keep our schools open, to protect our vulnerable elderly in nursing homes, and to keep our hospitals from being over-run and exceeding capacity," DeWine said in the press release.
More than 5,000 people have died from COVID-19 in Ohio and more than 200,000 have contracted the virus.
Despite cases being down, Miami is still urging its students to take precautionary measures, especially before they head home for the Thanksgiving holiday. Miami also emailed a video posted on its website encouraging students to continue taking safety precautions to help keep their families safe when they go home for the semester.
Jayne Brownell, vice president of student life at Miami, warned students in an email Wednesday, Oct. 28, not to become lax in their efforts to stop the spread. "With up to a 14-day incubation period for COVID-19, followed by a 10-day isolation period, the Halloween party you attend could lead to a delay in going home, and a legally-mandated 14-day quarantine could mean spending the Thanksgiving holiday in quarantine on campus," Brownell wrote in the email.
Globally, nearly 45 million people have contracted COVID-19, with almost 9 million of those cases occurring in the US. Deaths are approaching 1.2 million worldwide.