Talawanda School District resumes in-person learning
About 2,300 children, 77% of the students in Talawanda School District, returned to face-to-face instruction Tuesday, Oct. 20. The remaining 23% of the students elected to stay home and complete the academic quarter remotely.
Returning to school has been "so far, so good," Holli Morrish, director of communications and public relations for the district said on Thursday morning.
The first two days of face-to-face instruction have not presented many issues, said Morrish, but vehicular traffic at the schools has been heavier than usual. More parents are driving their children to school rather than relying on school buses, where social distancing is difficult.
"I have heard there have been some delays with the parent drop-off process because more people are driving their kids to school," Morrish said. "I'm sure the reason for that is that people are worried about social distancing on buses."
For students using district transportation, drivers and students are required to wear masks. The district is attempting to seat siblings together. Two students will be permitted per seat unless the children are younger, in which case, three students may be seated together.
Delays in beginning the school day can also be attributed to the school not opening doors as early.
"I would say we've had some delays in getting students into the building on time," said Morrish. "In order to keep people as safe as possible and try to keep some social distancing as kids are entering… we're not opening the doors until a certain time."
This week, there has been a report of an in-person student having been exposed to COVID-19. Some family members are concerned with how quickly this report came out, with face-to-face learning just starting. But, Morrish said this is not new, especially with athletic practices and competition going on since August.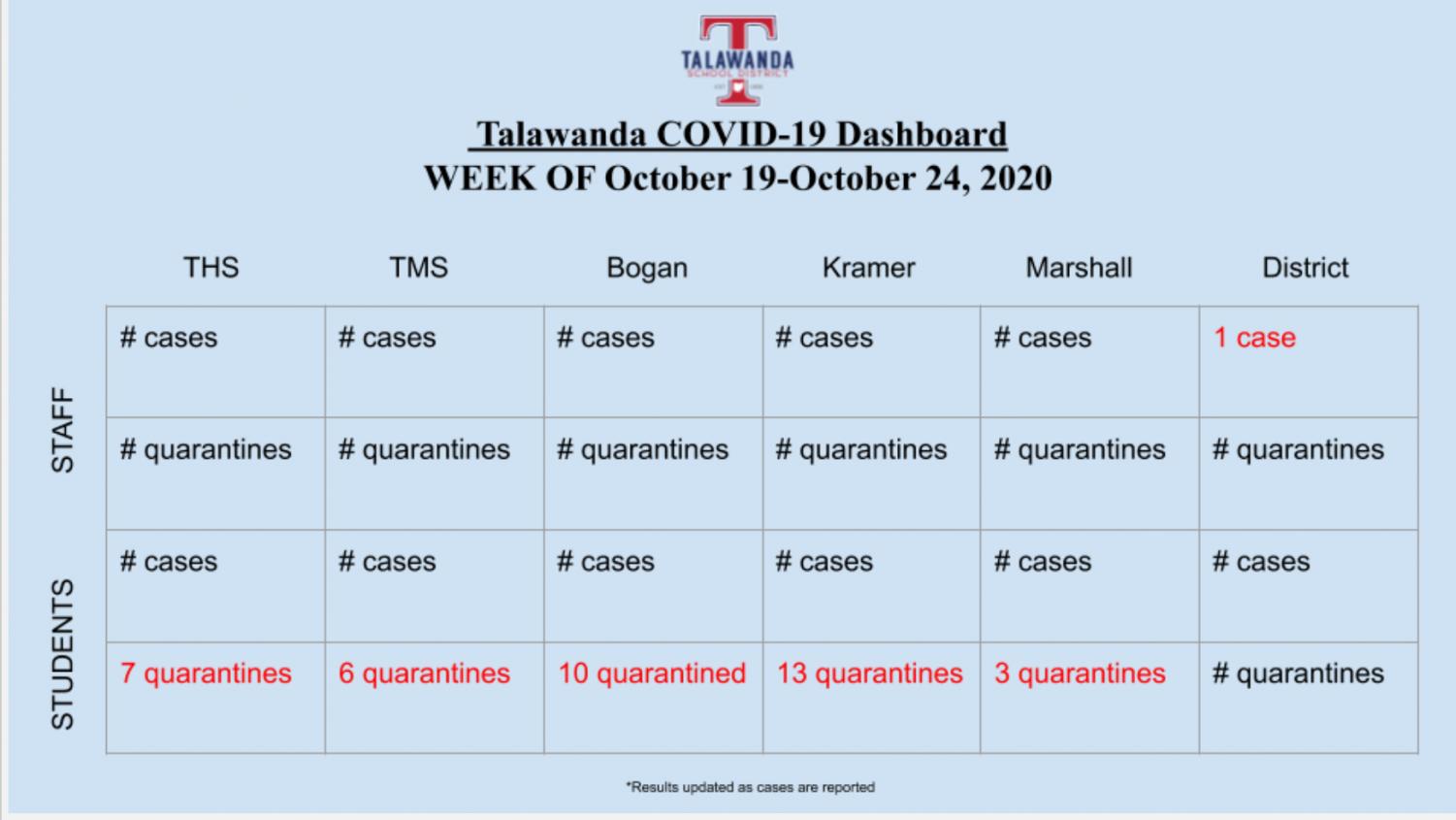 "[Someone] reported that they had been near someone who had tested positive for COVID," said Morrish. 
Morrish said that while there have been extra precautions taken, there have been, and are still going to be, cases of coronavirus or exposure to it.
"Of course, people have been masking up, and they're social distancing, and we've been doing all of the extra cleaning protocols," said Morrish. "But during a pandemic, we've already had staff and students throughout the summer months and these fall months who have been quarantined."
The district has published a dashboard, which Morrish updates each time there is a new case or quarantine reported. Families and students are encouraged to report exposure to the virus or positive test results to the district. Then, by law, the district reports all information to the Butler County General Health District. 
Starting on Sept. 1, 15 students have been quarantined and eight positive cases have been reported. Seventeen staff members have been quarantined, and there have been three positive cases.
Currently, 39 students in the district are quarantined and it has one active case.
Social distancing is also not guaranteed in many areas of the schools, including classrooms. According to the district's Pandemic Plan, most classroom setups will maintain a two- to three-foot distance between desks, rather than the recommended six feet. This is because of the limited size of the classrooms.
Though social distancing cannot be maintained at all times, the district is requiring face coverings.
Parents such as Lori Foister, are taking additional safety precautions to make sure their children's masks are clean and they are ready for face-to-face learning.
Foister, who has a son in the district, came up with a system to ensure her son has a clean mask for school each morning. 
"I am going to wash and iron them each Sunday, put them in a Ziplock bag, and put them in the front zipper of his backpack," Foister said on Oct. 21 in a Facebook post. "Then not only will he have them for each day, but he will also have extras…"
Other parents shared ideas for sending kids back in-person, like attaching masks to lanyards.
Foister also said she is also implementing precautionary measures at home. These include sanitizing her son's Chromebook and headphones a couple of times each week, checking his temperature before he gets on the bus each morning, and having him take a vitamin D supplement.
Additional precautions also take place in schools. Teachers are limiting movement within the building and students are being asked to stay in their assigned seats as much as possible. Each student will be provided with one mask and one desk shield, which they are responsible for cleaning. Both students and staff will assist with cleaning procedures.
Athletics and extracurricular activities, including the marching band, will continue to operate under the same guidelines they have had since August.
In asking students and community members to comply with the pandemic plan, the district said, "keeping the COVID-19 virus out of the classroom, bus, and building will keep our classrooms, buildings, and district open. This is a partnership between families, students, and staff."