Memorial and Honor Tree supports scholarships for students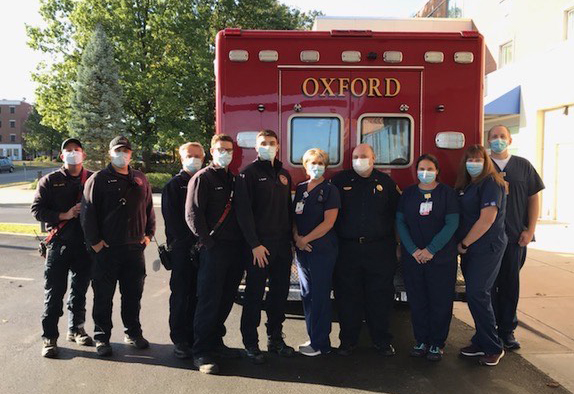 McCullough-Hyde Hospital invites people to remember and honor people who have been important to them in its annual Memory and Honor Tree program, which supports scholarships for students in nursing and other health-related fields.
The $10 contributions will be accepted until Friday, Nov. 20, and each memorial will be represented with a light on the tree that will stand in the hospital lobby throughout the holiday season. 
"When you list your loved ones either, in memory or honor, you get to publicly acknowledge their importance in your life. This is what makes it so special," said Sara Speh, chair of the program which is run by the volunteer Auxiliary McCullough-Hyde. 
The program started in 2003 and has become a tradition in the Oxford community and at the hospital. The Auxiliary of McCullough-Hyde Memorial Hospital is an organization of volunteers who render any service which will benefit the patients, staff, and/or the community. 
"It's a strong community program that people look forward to," said Speh, "I think it gives the community an opportunity to indicate memory of their loved ones who have passed or people that they admire."
Speh said the contribution could be in memory or honor anyone — family, friends, neighbors, doctors, teachers. All money received goes to students preparing for a career in a medical field. 
"It's an important program in support of the community and the hospital and these specific contributions are to support scholarships for students studying nursing and other health education studies," said Speh.
This year, in light of the COVID-19 pandemic, the program is urging donors to especially remember first responders and healthcare heroes. The honorary chairs are chosen for their contribution and support of the hospital and community. This is the first year the auxiliary is honoring a broad group of individuals with respect to COVID-19 and the pandemic. It is an opportunity to remember everyone affected by COVID-19, Speh said.
The names of donors will be listed on the MHMH| TriHealth website under "Auxiliary," displayed in the hospital and circulated to the news media. 
To contribute, send the name(s) of the person(s) you would like to remember or honor, indicating "In Memory" or "In Honor," and enclose a check for $10 for each name, payable to MHMH Auxiliary. Mail to MHMH Auxiliary, 110 N. Poplar St., Oxford, OH 45056. Please include your name, address, and telephone number as contact information.
For more information, contact the Memory and Honor Tree chair, Sara Speh, at [email protected].