Butler County residents weigh in on presidential debate
Ronda Bulach used to never mix business with politics, but when the Butler County Republican Party asked her to host a viewing party for the first presidential debate, she felt an obligation to do so.
On Tuesday, 30-50 supporters of President Donald Trump gathered at Bulach's Big Buls Roadhouse, in Ross, to view the debate between Trump and former Vice President Joe Biden. Throughout the 90-minute debate, the group cheered, jeered and took gulps of beer when certain words, such as "China," were said as a part of a drinking game.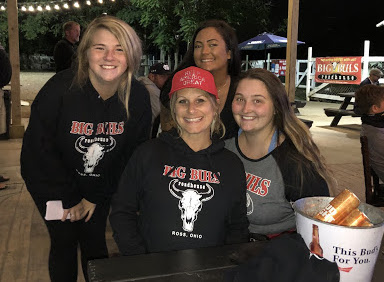 Bulach has owned and operated Big Buls Roadhouse with her husband for five and a half years and said she plans to vote for Trump. 
"No matter what political side (Trump) is on, he's a smart businessman who knows what's best for our country," Bulach said. "I don't care if he's polished or not, (he) knows what he's talking about," she said.
Bulach is a registered Republican but said she has voted for Democrats in the past. She said the increasing level of government control and healthcare and welfare inefficiencies are what steered her away from the Democratic Party.
Most people at the watch party were not wearing masks, but tables were placed six feet apart.
"(Mask wearing) should be a choice of the people," Bulach said.
Tuesday's event is the first of three debates that are scheduled between Trump and Biden. Vice President Mike Pence and Democratic vice-presidential nominee Kamala Harris will have one debate.
Interruptions drowned out discussions of policy
Moderator Chris Wallace of Fox News asked Trump and Biden questions about the virus, their respective records, the Supreme Court, mail-in voting, race and violence and the economy. Each campaign had agreed that each candidate would have two minutes to answer each question, followed by a general discussion.
But it didn't work out that way.
An analysis of the debate by the Washington Post showed that throughout the 90 minutes, an interruption occurred every minute. Trump made over three times as many interruptions as Biden, and the Commission on Presidential Debates is in the process of making format changes for the remaining two debates.
"Trump is emotional but he has facts on his side," said Nick Glaub, a pro-Trump Big Buls audience member. "I think, finally, we as a conservative-based or silent majority are saying enough is enough…Trump says exactly what I'm feeling."
But most debate viewers didn't see things through the same lens as Glaub.
According to a CNN poll of debate watchers, 61 percent of viewers nationally thought Biden won the debate and just 28 percent thought Trump came out on top.
Bill Snavely, Oxford's vice mayor, who was involved in intercollegiate debating during his career as a professor at Miami University and San Diego State University, said he was disappointed in Trump's lack of civility.
"I think it was a travesty," Snavely said. "I would say President Trump orchestrated an assault on not only debate as an activity, but of democracy as an idea."
Snavely said he had been a lifelong Republican, but became unaffiliated with the party about a decade ago, and three years ago eventually registered as a Democrat in large part because of Trump.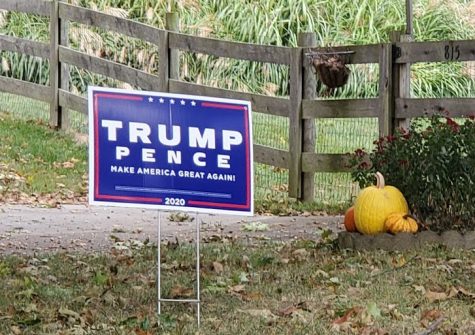 Snavely said he thinks Trump's interruptions and antics during the debate were off-putting but intentional.
"I think Trump was trying to do everything in his power to counter Joe Biden's success against stuttering – he's (Biden) been a lifelong campaigner to help people overcome stuttering as he did — and if you look at the literature on what exacerbates stuttering that's exactly what Trump was trying to do," Snavely said. "It was really obscene. I would say something else but you can't print what I would say. But it was quite a show, let's put it that way."
David Prytherch, Oxford city council member, said he is a proud Democrat and felt Biden looked like the better option during the debate.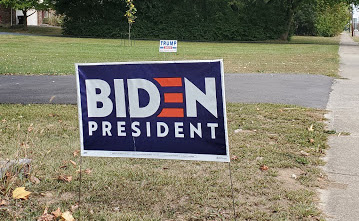 "I think there's a pathway to a less divisive country," Prytherch said. "The President sets the tone to an incredible extent and our current President's discourse was clear for all to see. And I think we saw a more dignified alternative if we want to choose it in November."
Traditionally, it is unprecedented to see a sitting president called a "clown" and told to "shut up" during a debate. Biden did both of those things, but Prytherch said Biden did the best he could to respond to Trump's interruptions and accusations with dignity.
"If any of us are thrown into a bar room brawl, I think that we're going to have to throw some punches," Prytherch said. "But I think (Biden) managed to cut through the noise — the incessant noise — and he tried to speak to the American people. And I appreciated that."
Concerns over racism, environment and health care
One of the most publicized moments of the debate was Trump choosing to not directly denounce white supremacy, and calling on the "Proud Boys" — a white supremacist hate group — to "stand back and stand by."
Rodney Coates, a Miami professor of critical race and ethnic studies and global and intercultural studies, who marched alongside the civil rights protests of the 1960s and is an expert in critical race theory, said Trump's divisive comments cast a negative light on American politics. 
Coates is the author of  "Covert Racism: Theories, Institutions, and Experiences" and "The Matrix of Race: Social Construction, Intersectionality, and Inequality."  He said his comments on the debate reflect his own views and that he was not speaking on behalf of Miami University.
"Here we are in 2020 and there's an appearance of the President of the United States embracing bigotry, racism and groups that perpetrate violence," Coates said.
Coates said Trump has not attempted to appeal to the Black community, and that his "Make America Great Again" message is not inclusive to minority communities because it discounts civil rights progress.
"He basically has written off the Black community as a vote… He's not appealing to Blacks and he's very purposeful about that," Coates said.
Coates said he plans to vote for Biden and thinks the election will be close. Coates added that he hopes the coming presidential and vice-presidential debates will have more civility and a more fruitful discussion of ideas, on both sides.
"(I'd like to see) a very deliberate conversation where individuals have prepped for it, as opposed to a slugfest that looks like we're on the sandlot and the kids are battling against each other from two different neighborhoods," Coates said. "I would love to see some great ideas, some thoughtful critiques and some well-thought-out and researched policies and agendas."
Coates isn't the only one who felt like the debate left something to be desired.
Timothy D'Agostino, president of Miami's Young Democratic Socialists of America (YDSA) organization, said he was disappointed by both candidates during the debate and that the discussion did not include popular ideas like the Green New Deal and Medicare for All. Trump opposes both programs and Biden, though he supports health care and environmental reform, has said he does not endorse either of those specific plans.
D'Agostino said he is opposed to Trump but didn't want to say whether he will vote for Biden. D'Agostino said he thought Biden choosing to distance himself from Bernie Sanders' policies was a miscalculation.
"The reality is that for progressive voters and the members of Bernie Sanders' base — at least sections of them — (Sanders) was the only reason they were involved in voting at all," D'Agostino said. "They could've made the difference in an election like this to really put (Democrats) over the top… But they're not being offered anything… I thought that was a lesson (Democrats) would've learned in 2016, but I don't think they have. And they still might win without it, but a lot could happen between now and Election Day."
D'Agostino said  Sanders would have performed better in the debate against Trump, and that there would have been more enthusiasm for Sanders heading into November.
"It is really sad that Joe Biden is the most we can hope for to be president," D'Agostino said. "I think the Democratic Party made a big mistake pulling out all the gears to make this the outcome."
D'Agostino said he isn't hopeful there could be monumental change during a Biden presidency. "This guy has had his hands on 40 years of public policy that arguably led up to the conditions that gave us Trump. Obviously, we were Bernie people. We wanted Bernie to win."
David Sanders, a senior botany major at Miami and employee at Songbird Environmental, said he didn't think either candidate seemed well-informed on climate change and environmental issues. "I think (Trump) sounded more informed than he used to," Sanders said. "And honestly, I think Biden sounded less informed than I imagined he would be."
Sanders, who isn't affiliated with a political party, said he has decided he won't be voting for Trump who he sees as divisive, but that he hasn't ultimately decided whether to cast his vote for Biden.
Sanders said the debate wasn't informative enough to bring him closer to a decision, and said he thinks a system of live fact-checking during the debates would help voters make more informed decisions. "It would be nice to know their sources on some of this stuff," Sanders said with a laugh.
Rules have to be followed for civil debate
John Forren, the Executive Director of the Menard Family Center for Democracy and the Chair of Miami University Regionals Department of Justice and Community Studies, said the debate was unconventional and did not positively contribute to the democratic process of choosing a president.
Forren said it is difficult to control what candidates say and how they behave because there is nothing in place to make candidates comply with the agreed-upon rules. 
After Tuesday's interruption fest, some have argued that moderators should have the ability to cut off a candidate's microphone. Forren said he is not sure whether that is advisable since the debates are intended to allow the audience to hear directly from the candidates.
"It's problematic when you have a debate moderator taking an active role in policing the boundaries," Forren said. "I don't think there was necessarily anything flawed with the way the debate was set up or the rules that were agreed to, it's just that when the candidates themselves refuse to follow the rules, the debate can quickly devolve into an unproductive discussion."
According to various national polls, Biden is up 6.6 to 7.9 points over Trump.
The vice presidential debate will air at 9 p.m., Wednesday, Oct. 7,  from Salt Lake City, Utah. The second presidential debate will take place at 9 p.m. Thursday, Oct. 15,  in Miami, Florida. The final presidential debate is scheduled for 9 p.m., Thursday, Oct. 22,  at Belmont University in Nashville, Tennessee.