McGuffey Montessori takes students to outdoor classrooms
Every day, about 70 students attend in-person classes at Oxford's McGuffey Montessori School. 
Located at 5128 Westgate Drive, McGuffey Montessori is a private school offering education from pre-kindergarten through 10th grade. Being such a small, private school affords it the opportunity to safely keep students attending classes in person, said Nancy Hawthorne, head of school.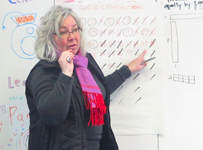 "Because of our size, the unity of our vision, our philosophy and our situation being a private school, we are a lot more agile," said Hawthorne. "We have less financial resources than public schools, but we have more flexibility in how we use them."
Being in-person, five days a week, has required the implementation of new health and safety protocols during the pandemic. While the school has had no cases of coronavirus yet, regular cleaning, wearing masks, temperature checks and symptom monitoring have become routine.
One way the school works to provide a safe environment for students and staff is by holding activities outside more often. Hawthorne said that for many students, this means spending almost the entire day doing activities and learning outdoors, no matter the weather.
Students are getting well acquainted with their "outdoor classrooms," engaging in activities such as painting rocks, raising and releasing Monarch butterflies, meditating and more for primary-age students to high schoolers visiting local parks and watersheds for lessons in geography and natural history.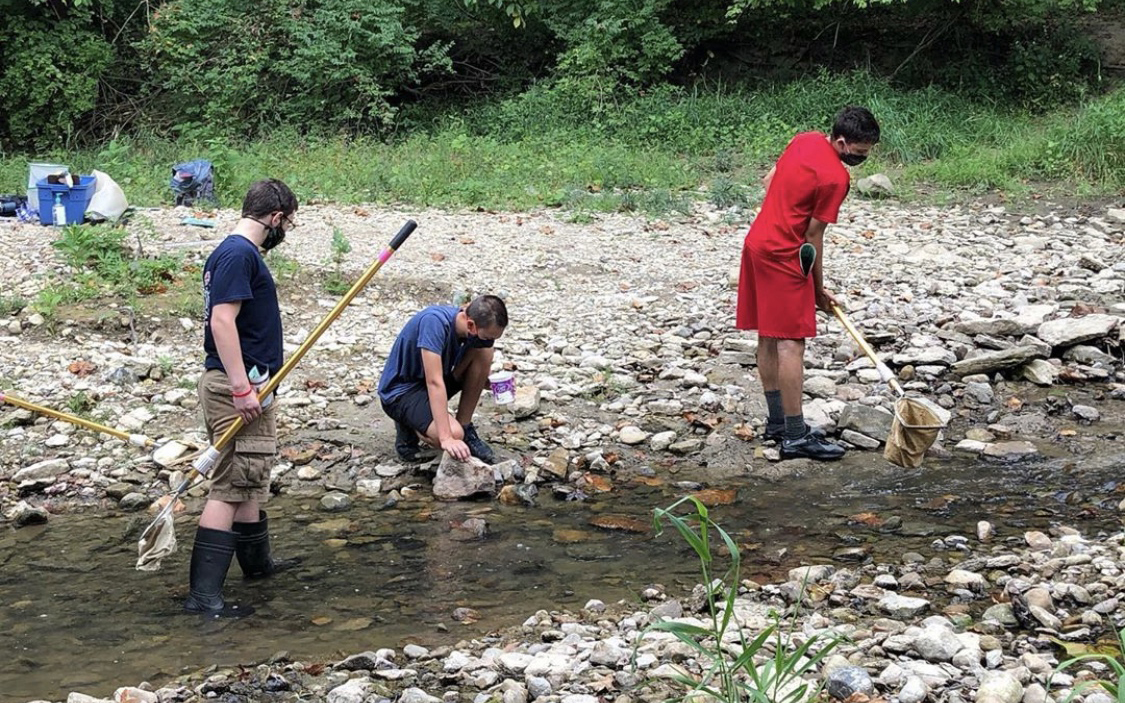 Co-lead teacher for the primary classroom, Elizabeth Taylor, said any subject can be learned not only while outdoors, but by using the outdoors.
"Every subject is conducive to learning outdoors, from young students counting how many pinecones are under the tree any given day to middle schoolers studying botany," Taylor said.
Even though students are spending more time outdoors, Taylor said this is not completely new for kids at McGuffey Montessori.
"McGuffey has always believed in the importance of outdoor learning, Taylor said. "In fact, even before the pandemic, every classroom had an outdoor and indoor classroom."
Teaching younger students can be a challenge when they have to wear masks all day, every day, but the school is providing students with a few safe opportunities to take their masks off during the school day, said Hawthorne. Giving students these opportunities reduces mask fatigue. 
To make sure students are socially distant when they take off their masks, each child has a yoga mat or a miniature tent to themselves. Taylor said teachers have also gotten creative with fun ways for children to check their social distancing themselves, one of which includes kids using their "spinning airplane wings," or spinning with their arms out to make sure they aren't close enough to touch other classmates.
Even with the kids wearing masks the majority of the time, Taylor said she has not run into issues.
"The children have done remarkably well," Taylor said. "They wear their masks all day, inside and outside, and I haven't heard a single complaint." 
Social distancing is much easier for McGuffey's high school students than Talawanda, considering there are only three of them.
Last year was the school's first year offering a high school curriculum, starting with only ninth grade. Each year, the school adds the next grade level, meaning this year there are curricula for both ninth and 10th grades.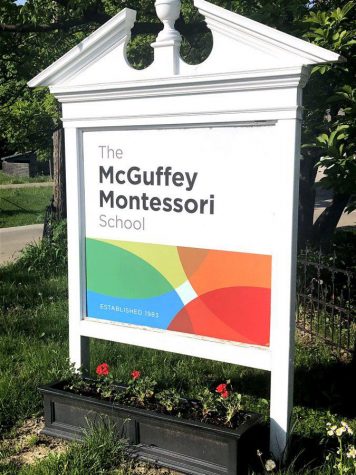 Amy Bartel, high school coordinator and art and Spanish teacher, said they are taking advantage of the low number of students by taking trips to natural places in the Oxford area.
"We have used the local city bus system, something that most high schoolers in Oxford have never done, and visited Four Mile Creek and Collins Run at Peffer Park," Bartel said. "We are learning about the natural forces that have shaped the land here and the human practices that have shaped it further."
Building a curriculum for these new high schoolers would typically be a large undertaking, but the school was faced with even more challenges with coronavirus.
But, Bartel said such challenges were met by parents and staff willing to work through it.
"There has been so much to consider, such as spacing of furniture, multiple materials to minimize touching shared objects, cleaning procedures, opportunities to be outside, etc.," Bartel said. "We have overcome them by staying steady, being flexible, and taking one day at a time."
Much like the current situation, which can sometimes seem dreary, Taylor said that even poor weather does not stop the students and teachers from their outdoor learning. Each kid has a set of rain gear at school and will bring warm clothing as colder months arrive.
"As the saying goes, there's no such thing as bad weather, only bad clothing," Taylor said.