Donald Barnette, Miami's first Black basketball player, dies at 86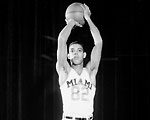 Donald G. Barnette, 86, who became the first Black player on Miami University's basketball team in 1952 and was inducted into the school's Hall of Fame in 2002, died on Sept. 4, in Oakland, California, where he had lived. The cause of death was not available.
Barnette was born Sept. 1, 1934, and attended Middletown High School where he served as the first Black captain of the Middies. At 6 feet tall, he played guard throughout his basketball career. 
He was inducted into Middletown High School's Athletic Hall of Fame in 2000. Two years later, he entered Miami's Hall of Fame where the citation describes him as, "a member of Miami's 1954-55 championship team, he went on to earn first-team all-MAC and honorable mention all-American honors during his final season in 1955-56." 
After graduating from Miami, Barnette spent three years in the United States Navy where he made the fleet and all-Navy basketball teams. With his passion and dedication to basketball, he then spent four years playing for the Harlem Globetrotters where he was known as the "Dribbling Wizard." Barnette is listed as an All-Time Globetrotter on the Harlem Globetrotter's official website. 
Barnette was a first-generation college student as well as a determined player. He was the youngest of 10 children. He is survived by his wife, Barbara; four children, Cherie, Don Jr., Nikki and Andrea; two grandchildren; a brother, Van Barnette, and a sister, Helen Barnette.
Barnette's funeral service was through Chapel of the Chimes funeral home in Oakland, California, and his family hopes to have the service in Sacramento Valley National Cemetery at a later date.