Student teachers face COVID-19 reality in classrooms
On Sept. 1, Emily Stegmeyer was just finishing her day of student-teaching for a second-grade class when she got a call from her host teacher in the Hamilton School District. She was told she couldn't come back to school the next morning, or any morning after that, until further notice.
Stegmeyer, a Miami University senior majoring in early childhood education, said she was told Hamilton no longer wanted student-teachers from Miami coming into its schools because of the rising number of COVID-19 cases reported on the university's Oxford campus. Instead, she would have to work from home while her students were still in the classroom.
As of Sept. 1, Miami had 572 positive COVID-19 tests reported among students since the start of the fall semester. As of Sept. 9, the number had risen to 1,174. Stegmeyer, thankfully, is not one of them.
"I was just excited to be able to have that in-person class time and be able to practice teaching in a classroom like I will be the rest of my life," Stegmeyer said. 
Miami education majors are placed as student-teachers in 27 school districts in the area, each district having a different plan for how they will be conducting classes this year. The district policies range from all in-person instruction to hybrid schedules to all virtual learning. At least one of the districts Miami works with has sent home all of their student-teachers. Stegmeyer said since being told to stay home, she has heard of multiple other districts making similar rulings. This decision stems from the rising number of cases on college campuses across southeastern Ohio.
There are four major universities with teaching education programs in the area: University of Cincinnati, University of Dayton, Xavier University and Miami. Of those four, both Cincinnati and Dayton are seeing a decline in new COVID-19 cases. Xavier's case count has stayed relatively stagnant in the past ten days. Miami's count is still rising, and already makes up nearly 23 percent of cases in Butler County, according to the Butler County General Health District.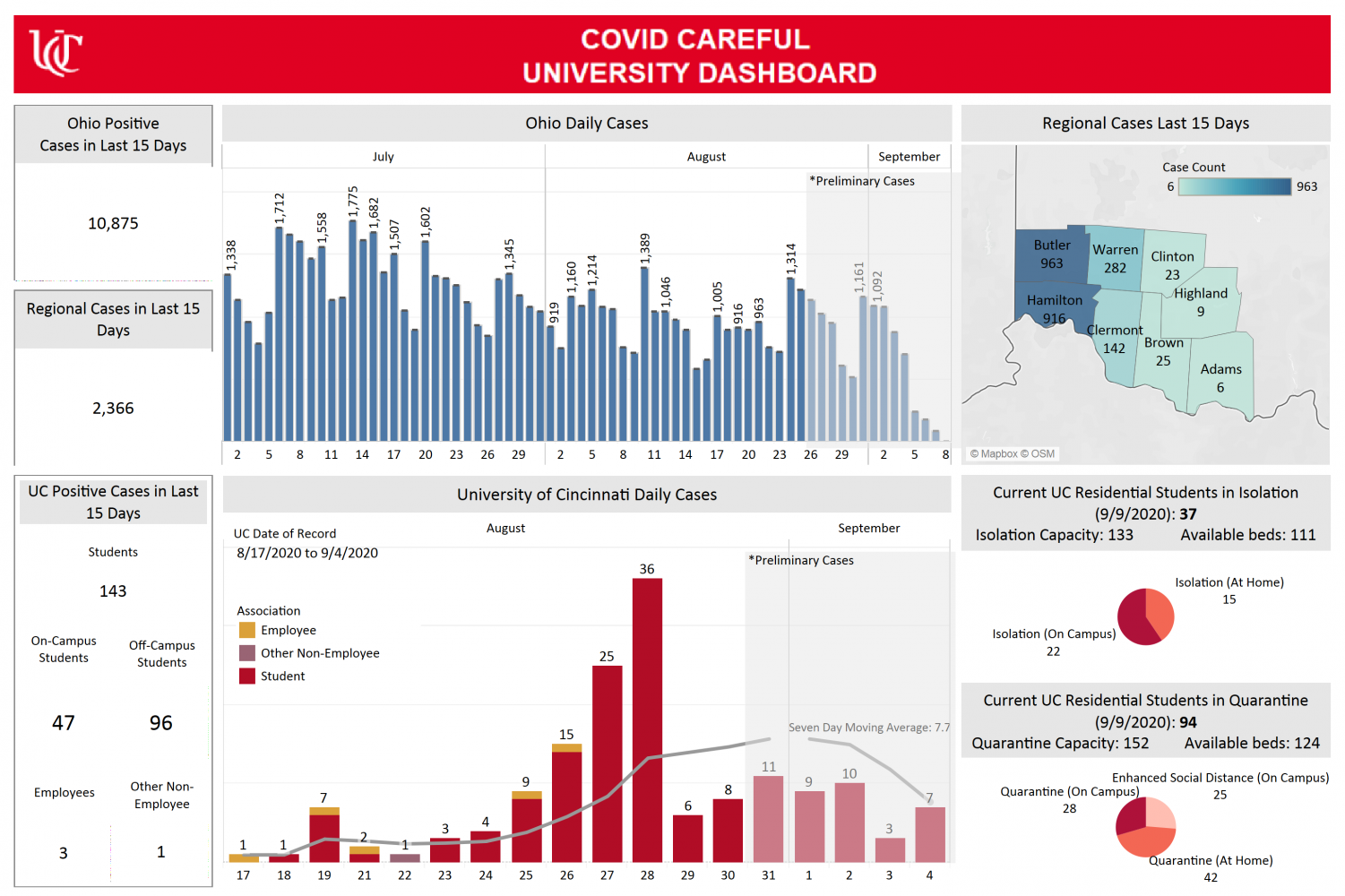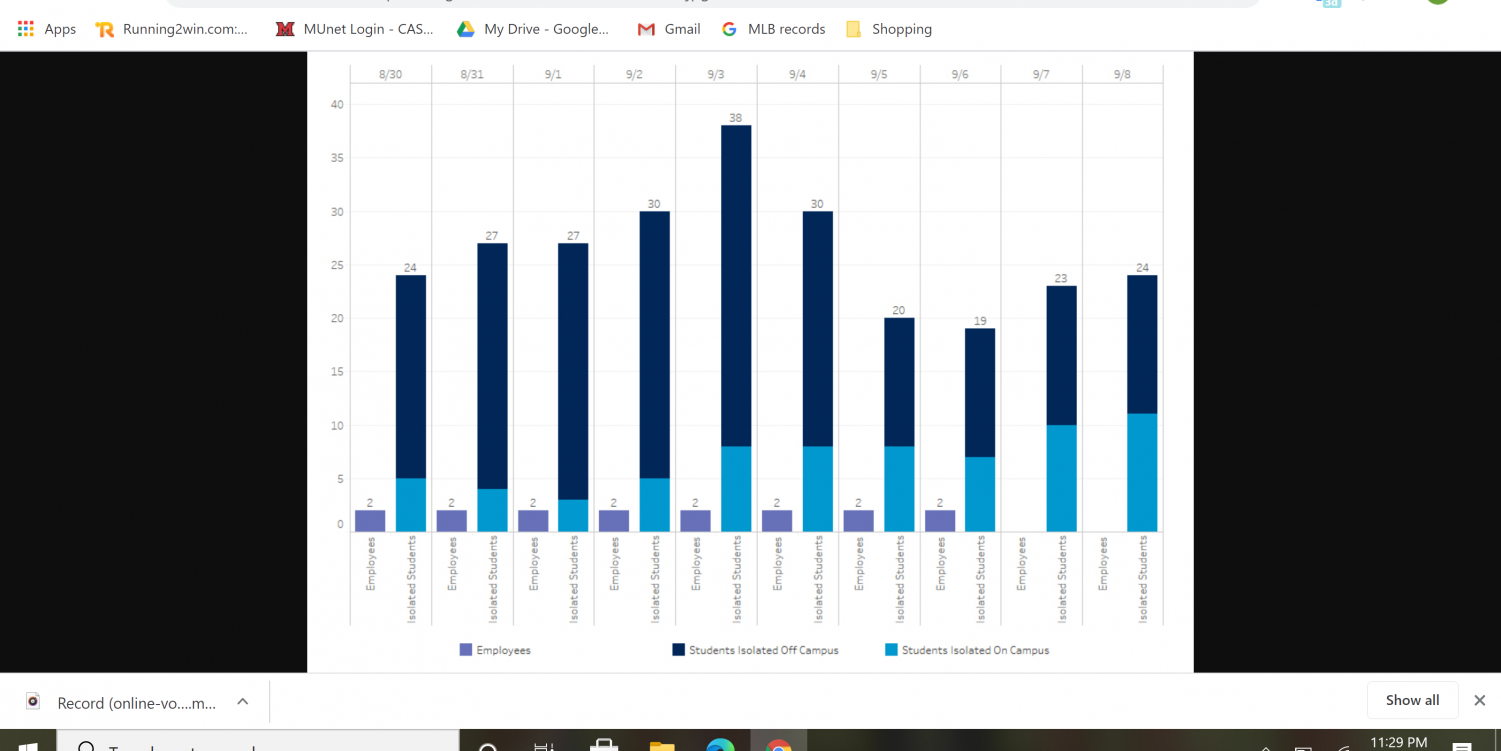 Molly Sawyer, director of clinical and field placement in Miami's office of student teaching, said that even though getting the student-teachers back to the classroom is important, health and safety is still the priority.
"I've shared with our students that I think our priority needs to be their health and safety first," Sawyer said. "As well as the health and safety of the children that they'll be teaching."
To prioritize health and safety while making progress to get student-teachers back in the classroom, Miami's education department is looking to provide increased testing for students. Because it does not have access to the rapid COVID-19 antigen test, the university would have to use the test that takes 48-hours to get results, said Sawyer. 
Even if the student-teachers were tested twice weekly, which is the current plan, there is no guarantee K-12 districts will begin allowing them back into schools.
Despite the upward trend in cases, Miami announced Wednesday that it will continue with its plan to resume in-person and hybrid courses at the university on Sept. 21.
Sawyer said she is unsure what kind of impact this decision will have on student-teachers from Miami.
Until these student-teachers can get back in the classroom, it is still unclear what their jobs will look like. As for Stegmeyer, she is doing anything she can to help her host teacher while the second graders are attending school.
"For those of us whose students are still face-to-face, we can't be on Zoom calls because our students are in the classroom," Stegmeyer said. "We've been doing any sort of online material possible. There's not a ton (to do)."
Adapting to online teaching
Miami teacher education students are required to complete a semester of student teaching, whether that be in-person or online. The university's program prepares students for Ohio licensure, according to the department website. Ohio requires all teachers to hold a bachelor's degree, complete an Ohio teacher preparation program and pass the required examinations.
With so many changes this school year, will next year's graduating class of new teachers be ready to take on virtual and in-person classrooms? Sawyer said Miami's students will be equipped with the tools they need to succeed.
"We will work with [students] to make sure that they meet graduation requirements and they meet assessment requirements so that they become licensed teachers in the state of Ohio," Sawyer said. "We were able to make that happen in the spring of 2020, so I think that's a very fair goal for us to have."
Alayna Cowden, a student-teacher from Miami at Talawanda High School, has been working online since the school year started in August. Even with the university's help, she said there might just be teaching experiences that she won't get to have.
"There are disciplinary parts of teaching that I am definitely not going to experience if we never go back in person," Cowden said. "And that's kind of significant."
Now, with even more student-teachers online, connecting with kids, whether they are also online or in the classroom, is a common challenge. student-teachers, K-12 teachers and college professors all are struggling to make that connection from behind computer screens.
Cowden has been in virtual classes at Miami, making her a little more familiar with such digital communication barriers.
"There's a real glass ceiling that you hit in Zoom when it comes to communicating with people and connecting with them," Cowden said.
To break through that glass ceiling, Miami Associate Professor Katherine Batchelor uses Flipgrid.
Flipgrid is a platform for students and teachers to create and send short videos of themselves in discussion boards. Then, anyone in the discussion group can respond with a video clip or message of their own. Batchelor has been using Flipgrid since well before the pandemic to teach her students, who are future teachers themselves, to incorporate technology into their classrooms.
After using Flipgrid in Batchelor's class, Cowden brought it to the class where she is student-teaching at Talawanda — this time, using it as a teacher. 
Flipgrid and Zoom are helping teachers maneuver through online schooling, but the world outside the virtual classroom is also providing some learning opportunities. 
"The world is lending so much material for an English teacher to grasp onto and to use in the classroom," Cowden said. "It's been really interesting to teach in this political, social moment. It's been truly unique."
Batchelor has faith that even with so many changes to the education system and the rest of the world, a successful learning environment can still be a reality.
"It's just going to look differently with how we learn it," Batchelor said. "But I still feel like we are going to learn it."
Some student-teachers remain in class
Though some student-teachers are working from home, some, such as Andrew Polk, a senior teacher education student at Miami, are in the classroom. Polk student-teaches English at Sycamore High School in suburban Cincinnati.
Even though Polk is teaching in person, he said he thinks the chances of staying in person all semester are slim once students are back together and cases rise again. 
Whether online or not, Sycamore has spent a lot of time preparing teachers for what is to come. The school district has created a Healthy Back to School 2020 plan, along with a virtual learning page to assist with hybrid or online models.
"I've been really impressed with how forward-thinking the district has been in terms of getting us prepared to go back. We are really, really well prepared to handle those different scenarios," Polk said, referring to the potential of switching online without much notice.
Whether students are online, hybrid or in the classroom, Sawyer said the key is flexibility.
"(I've learned) just to be flexible every day with every decision and realize that the best decision is being made given the circumstances we have for that day," Sawyer said. "And we just have to be flexible again tomorrow."