Local commission wants to study if police stops have racial bias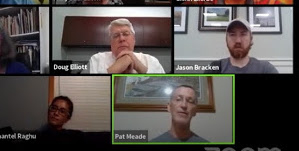 Oxford's Police Community Relations and Review Commission wants a breakdown of race and ethnicity for all pedestrian and bicycle stops made by the Oxford police to determine if bias plays a role in who gets stopped.
Pat Meade, chair of the PCRRC, made the request as part of an annual report to Oxford City Council Tuesday, Sept. 1. The PCRRC was established by the city in December, 2015 to increase communication between the community and the police and to address complaints made against officers in the Oxford Police Department.
Meade said the PCRRC has suggested the police department begin collecting pedestrian and bicycle stop data for three years.
"People have a perception of the police — sometimes that's based on reality and sometimes that's based on realities that are outside of Oxford," Meade said. "The Commission is really trying to discover what the reality is in Oxford."
Oxford Police Chief John Jones said he thinks field-stop data could be helpful and understands why community members want it, but thinks the collection process is not as simple as it's perceived to be.
"If I'm walking Uptown on High Street and stop to talk to a business owner, is that something we should document?" Jones asked. "(OPD) does a lot of foot and bicycle patrol and officers don't have computers with them …. I have concerns that the more administrative work and paperwork we give officers to do that it will reduce the proactive policing and the safety of our community."
Jones said he plans on developing a data collection system with department staff members to help define what constitutes a pedestrian or bicycle stop and get feedback from the PCRRC at future meetings. The department does keep track of race and ethnicity when criminal charges are filed and arrests are made, but not in routine stops that don't result in further action. In 2019, 84.6% of the 1,061 people arrested by OPD were white, 8.1% were Black, 4.5% were Asian, and 2.7% were other, according to police records.
Although the PCRRC is an advisory board and cannot force the police department to do anything, its recommendations carry weight with city council, which could order the police to do it. Meade said he wants police to start collecting the data in six months. 
Pedestrian and bicycle stop data was one of six goals the PCRRC listed in its 2020 Yearly Report. The other five are:
Increase communication with the African-American community and other demographic groups in the community about their perspectives on policing in Oxford.

Join the National Association for

Civilian Oversight of Law Enforcement (NACOLE)

.

Strengthen the original ordinance that created the commission regarding how it deals with complaints that come before it.

Improve the complaint process itself to remove barriers and enable anonymous submissions.

Work with the city council on re-envisioning policing in Oxford. 
Removing barriers to report police misconduct was listed as a PCRRC goal, but the group decided to not make it a formal request, because of ongoing collaboration with OPD, Meade said.
Currently, complaints against police must be made on forms available at the police department or on the OPD website. The forms say complaints must be filled out by participants or witnesses to the actions being complained about. The contract between the city and the police union requires that all complaint forms must be signed and notarized by the complainant. The website carries a warning that knowingly submitting a false complaint that is notarized is a crime that can result in a fine and jail time.
Justin Chandler, a Miami University graduate student and member of Oxford Black Lives Matter, said he believes the OPD Complaint Filing webpage is insufficient, and that police officers should be mandated to give civilians a business card with instructions and a link or code for filing a complaint with the PCRRC for all stops. That proposal was sent to the city by Oxford Black Lives Matter earlier this summer. 
"At the end of the day, not everyone is going to know about the (complaint filing) website," Chandler said. "In other words, some Oxford citizens won't know what recourse they have when they experience police misconduct and that is a problem."
Oxford police officers give out their names and badge numbers when writing citations and attending to car accidents, but it is not common practice to distribute business cards to civilians at pedestrian and bicycle stops, the chief said.  However, Jones is willing to look into revising the cards and mandating patrol officers offer business cards.
Meade also recommended eliminating the notarization requirement because it may discourage some people from making a complaint and complainants may not want to pay a notary fee. 
"If I'm a disadvantaged individual and I deal with a police officer who's mistreated me and I fill out a form and turn it in and they tell me I need to get it notarized, I might turn around with that piece of paper and not file the complaint," Meade said. "It's the belief of many people in the community that (the notarizing requirement) is an unnecessary hurdle, because if I fill out a complaint and turn it into the police and it's a false report, I don't need to have it notarized for me to be in trouble."
Knowingly making a false statement to the police, whether it is notarized or not, is a crime. 
Meade would like to see the Fraternal Order of Police, Lodge 38, the Oxford police union, enter into a memorandum of understanding with the Oxford City Council and remove the notarizing requirement.
In an interview with the Observer, Jones said he thinks people who feel they have been mistreated by police should complain about it.
"As the chief, I would rather have people complain to me or the police department and raise concerns rather than just tell their friends about a negative experience they had with an officer and spread that in the community," he said. "It may just be a simple understanding or it could be something we can improve upon and address." 
In 2019, there were five formal complaints made against OPD employees. Two resulted in suspensions, two were determined to be unfounded and one resulted in a written reprimand, according to department records.