Rising COVID-19 numbers send fear and apprehension through community
About one out of every 20 Miami University students has now tested positive for COVID-19.
Even with campus closed and many students not back in Oxford, Miami reported 833 students and three employees had tested positive for the virus as of Thursday, Sept. 3. Oxford Mayor Mike Smith said this has at-risk Oxford residents living in fear of the student population.
"I think the community as a whole, outside of the university, is already doing everything they can," Smith said. "Essentially, the at-risk population that lives in Oxford year-round is basically hiding from students so they don't get exposed… They're shopping at Kroger at times when students aren't there, they're wearing masks, they're avoiding places where there might be Miami students because they're afraid of the community spread of the virus."
Smith said he thinks the university should utilize its disciplinary process to encourage students to act in accordance with COVID-19 safety guidelines. "There have to be some penalties for breaking the rules or we're not going to slow down community spread of the virus in the student population," Smith said.
Smith said he's worried about rumors that roommates of positive cases are not quarantining and that students who are positive cases are not quarantining. "That can be punishable with jail time if they get caught," Smith said.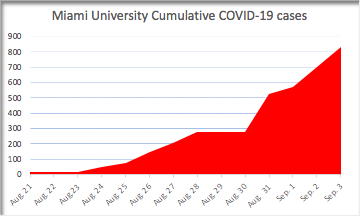 Oxford currently has an ordinance limiting gatherings of more than 10 people, with a $500 violation for a first offense and $1,000 violation for a second offense. Kimberly Moore, associate vice president and dean of students, attempted to motivate students to abide by this ordinance in an email last week that threatened additional action by Miami. "The Oxford Police Department sends student violations to Miami, and we are charging these – and some other violations – as Endangering Public Health & Safety under the Code of Student Conduct," Moore said in the email. "A typical sanction for this offense is suspension."
Miami President Gregory Crawford sent an email to all students and employees Wednesday, Sept. 2, encouraging students not to travel or attend large gatherings over Labor Day weekend.
"Our ability to have residential students move-in the week of September 14 and to begin our in-person and hybrid classes on September 21 depends on our ability to stop the increasing spread of the virus," Crawford said in the email.
Earlier in the week, Crawford announced over email that Miami would begin wide-net and surveillance COVID-19 testing as part of its Healthy Together Pledge. Crawford said that in partnership with TriHealth, Miami will be testing over 3,000 students for COVID-19 each week to trace cases and identify asymptomatic carriers of the virus. Students are being randomly chosen to receive a test and are expected to comply if they intend on attending in-person classes.
Miami's Interfraternity Council, National Pan-Hellenic Council, and the Panhellenic Association announced in a joint email, obtained by the Observer, that Miami's Greek community will be under a shelter-in-place order. "What is necessary at this moment in time is to shelter in place for 10 days (Aug. 29 to Sept. 9)," the email said. "All members of the community are expected to follow this policy to reduce the spread of COVID-19." The email specifies that Greek Life members who have not tested positive for the virus can perform essential tasks but that they're expected to limit contact with others.
Smith said the effect of student cases on business in Oxford is concerning. Recently, multiple businesses in town have temporarily closed with employees testing positive for the virus.
"We thrive on student employees in lots of businesses in town, especially the service industry and restaurants and bars," Smith said. "That's something we didn't see coming that student employees can shut down businesses again because of testing positive."
Smith said he thinks it's important for Miami students to be compliant with mask policies and size-limited gatherings to slow the spread. "I think the biggest thing is we need to keep restricting our gatherings of more than 10," Smith said. "You need to find your group of 10 friends and unfortunately that's who you're going to be with for the semester."