Reopening of arts center helps community members relieve stress
The Oxford Community Arts Center (OCAC) is working to bring the beauty and joy of the arts back to the community during the gloom of COVID-19.
The OCAC was forced to close mid-March and cancel its annual Art Gala, "The Art of Nature…Everything's Beautiful", because of the pandemic. Following the shutdown, staff members had to reevaluate their operation of community functions and regularly scheduled classes and exhibitions to abide by health restrictions, said Kari E. McLean, associate director of development and marketing.
After coming up with new COVID-19 protocols, the OCAC began limited in-person classes again in late July, much to the appreciation of regular students. "It's been absolutely a strange time in my life," said Jene Krall, a longtime watercolor student at the center. "I really missed (painting) because I look forward to it every week." 
Krall, a 66-year-old retired teacher, began taking classes at the OCAC in 2017. She is a regular attendee of Howard Krauss' nighttime class, painting landscapes along with her classmates. Painting created "a good therapy especially during COVID with all the other stresses. It takes your mind to better places," she said.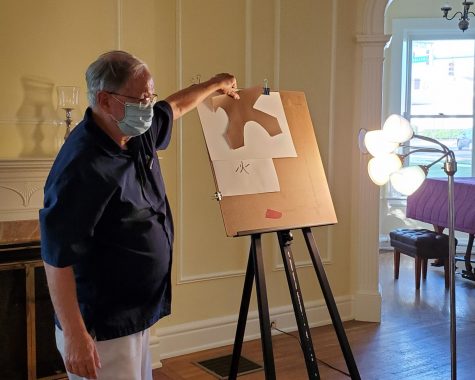 By following stringent health guidelines, like cleaning and distancing the tables used for art classes, the center has been able to bring art back into the lives of community members like Krall. Masks are required while inside the building, and events hosted in the ballroom are required to have all the windows open. "Given the restrictions with COVID-19, we aren't going gangbusters to market because it doesn't make sense to do so when attendance is limited," McLean said. 
Despite these restrictions, the center is starting to bounce back. It offers certain classes virtually as well as in-person. The OCAC has even been able to host events such as smaller weddings, as long as guests wear masks when they are not seated at socially-distanced tables. 
The watercolor classes are among the most popular classes. "The watercolor art classes are all booked up because our instructors are so famous within the Oxford community," said Donna Stevens, OCAC's facilities coordinator. For the time being, each art class is offered on a six-week cycle, with eight spots per class.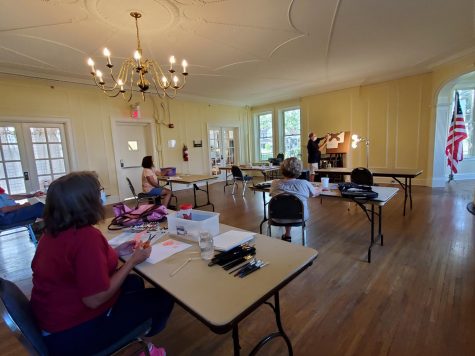 The OCAC has long been a cultural hub and historical landmark in the community. The first part of the building was constructed in 1850. Originally built as the Oxford Female Institute, which later merged with the Oxford Female College in 1867, it closed as a school in 1928. Miami University acquired the building and used it as a female dormitory until it was put into the community's hands and transformed into the Oxford Community Arts Center. 
The OCAC offers members opportunities for gathering with spaces such as the ballroom, theater, rental studios for artists, and gardens around the grounds. It is home to 32 artists' studios. There are art and dance lessons, performances and many other communal activities. The mission of the center is to build community through the arts and this will continue even during COVID-19, McLean said.
With the new COVID-19 changes, everyone, including staff members and students, has to be flexible. "You know, it's just an invisible enemy and it's everywhere. We can't see it, but it's there. And we can't be too cautious. Even though I'm a person who loves adventure, we have to do that very wisely," Krall said. 
Besides the watercolor classes, the Flowing Grace School of Dance is offering sessions at various times during the week for tap, jazz, ballet and contemporary dance styles. Dance instructors offer in-person ballroom classes on Thursdays and virtual ballroom classes via live stream on Fridays. Pre-COVID, the dance classes regularly attracted up to 20 participants, but now the number has to be limited to 10. Participants have to register ahead and can't just be walk-ins. 
Despite the shutdown, the OCAC remains financially stable thanks to the generosity of its community members, Stevens said. The main concern is continuing to provide community art experiences while implementing public safety and being flexible during these uncertain times. The staff of 11 is working hard to provide the Oxford community with the arts and classes they love, Stevens said.  "We are one big family here, and Oxford has been so supportive of us," she said.
Contact the office at (513) 524-8506 or [email protected] for more information on events, classes and livestreams.