Talawanda, St. Mary Church guarantee students school meals despite online learning
Ever since the COVID-19 pandemic closed down school buildings and pushed learning online, Talawanda School District and the BackPack Program of St. Mary Catholic Church have adapted to provide "school" breakfasts and lunches to students and families throughout the district. 
Every Friday, the weekend supplies of pre-packaged, shelf-stable meals are given out between noon and 1 p.m. at eight locations. These locations include: Somerville, Island Lake Mobile Home Park, Miami Mobile Home Park, Park View Arms, the district's three elementary schools, and the Talawanda Middle School, said Jeanne Glaser, coordinator of the BackPack program.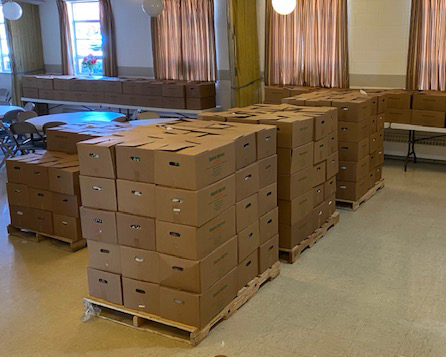 "We tried to find the areas that are closely located to kids and their families," Glaser said. 
This has happened all summer and will continue throughout the school year. BackPack distributed 3,529 weekend food bags (each with two breakfasts, two lunches and some snacks) between Oct. 4 through March 13, and 4,181 packages between March 20 and Aug. 21, said Glaser.
"While the summer BackPack program provided weekend meals for children ages 1-18, the school year BackPack program primarily focuses on pre-K through fifth grade," said Glaser.

"Even though the kids are not in the classroom, nourishment needs remain the same," said Glaser.
"The whole idea behind BackPack is you give the kids who are in need of food, you give them nutrition for the weekend," Glaser said. "You want them to be fed, rested and ready to learn Monday morning." 
All weekend meals are supplied from a local food provider, Shared Harvest. Meals include proteins, canned fruits and vegetables, grains, and shelf-stable milk. 
Glaser also recruits volunteers and writes grants in order to receive funding. Funding comes from organizations including Kiwanis Club, United Way, the Oxford Community Foundation, donations from St. Mary's parish, and others. 
Dan Haizman has been volunteering with the BackPack program for six years. After he retired, he found out about the program from the very church he attends, St. Mary's. Haizman spends every Friday delivering bags to two separate sites, totaling up to about 125 bags per week to students this summer. 
"The impact is bigger than you think," Haizman said. "To some people it's very, very necessary."
Talawanda provides for weekday meals
Haizman recounted a time when he worked with teachers in the area to help deliver meal bags. One student had recently moved, so the teacher drove it out to the family's house. 
"The teachers are exceptionally active and concerned about their students," Haizman said. 
Now that students aren't at school during the week to get their daily breakfast and lunch options, Talawanda has restructured how children can get the weekday meals they may depend on. 
Amy Macechko, Talawanda's health & wellness coordinator and Stephanie Jones, director of student services, collaborated with the BackPack program to use the same sites and times to distribute the weekday meals to make it easier on families. 
"We're really trying to get out into the area…and make it so you don't have to travel far to get the meals," Jones said.
On Mondays, children can pick up a fresh meal package prepared at the school cafeteria to provide the five breakfasts and lunches they would normally receive while in-school. These meals include fresh produce and meal options that can be reheated. 
The food is offered to all students, but students must fill out forms to be eligible for free or reduced-cost meals during this school year. 
"Our goal is to make sure any child that needs food, receives food, no matter what," Jones said. "We're pretty passionate about that."
Talawanda, which usually stops its food program when school ends in May, was able to continue providing food throughout June this year due to the COVID-19 pandemic. The weekday program has restarted now that school is back in session. 
"We mobilized so quickly. I'm so proud of our district," Macechko said. "We were having conversations in March before schools were forced to shut down about 'If this happens, how are we going to feed our children?'" 
"In addition to the food, children can also receive a smile when they visit the sites, even if it is behind a mask," said Macechko.
"These sites are more than just a time and place to come get meals, but rather a great touchpoint with caring adults and staff from the district," Macechko said. "Our staff members are the ones at all of those sites. They are getting to smile and say hello to the children."