Enjoy Oxford launches self-guided tour of Black history in Oxford
A self-guided walking tour of 16 spots commemorating important points of Black history in Oxford is now available through Enjoy Oxford, the city's nonprofit visitors' bureau.
Taylor Meredith, communications and marketing manager for Enjoy Oxford, said she hopes some of the names and places will stick out to people, as the tour is a celebratory one. Several stops honor notable residents such as Cephus Burns, a stonemason who designed and helped build many of the bridges and buildings on Western Campus, giving it its distinctive gray stone look. His former home, located at 310 N. Main St., is now a private home.
The tour also highlights four historically Black churches of Oxford, three of which still are in operation: First Baptist Church, Bethel A.M.E. (African Methodist Episcopal), and God's House of Praise and Worship. 
Several stops on the tour land at places that note ties to segregation and civil rights, such as the McGuffey Laboratory School — now McGuffey Hall — which once housed a K-12 school that wasn't integrated until 1962, 52 years after its founding. 
Perhaps the most well-known stop is the Freedom Summer Memorial on Miami's Western Campus. The site is dedicated to three young voting rights volunteers who trained there and lost their lives trying to register black voters in the South in the summer of 1964.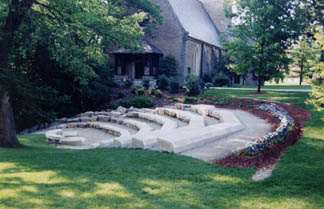 "Long story short, people were asking for it," said Meredith, the sole researcher of the project. Meredith said the project started with people wanting to hear more stories about the Underground Railroad and the Black community in Oxford, but that there was too much information out there to just focus on one aspect. 
The tour could also be incorporated into field trips or curricula for schools in the surrounding area. "Much of this history isn't visible to people driving by," said Valerie Elliott, the manager of the Smith Library of Regional History, who helped Meredith with her research. "If historic buildings are gone or don't have signage… people might never know their significance."
Meredith said she hopes the tour will be utilized by visitors and residents alike. For visitors, the tour provides a new experience and opportunity to learn about the history of Oxford. For residents, it's a chance to see their city in a new light — that of a marginalized community. 
The Enjoy Oxford website goes into more detail about the stops than could fit on the pamphlet. It also provides more information about additional people and events, including John S. Jones, whose farm on Booth Road was a stop on the Underground Railroad. 
There is also a stop next to Uptown Memorial Park, near the spot where public lynchings of two Black men occurred. Simon Garnett was killed in 1877, after being accused of assaulting a white woman. Henry Corbin was killed in 1892, accused of killing a white woman he worked for. His body was then shot 400 times, according to local history. 
"There is so much more African American history in Oxford than was possible to fit into one booklet. If the tour piques interest, then we hope people will contact the library for more information!" Elliott said. Knowing and sharing the Black history of Oxford is a good start to keeping it alive.
A physical copy of the tour brochure is available at the Enjoy Oxford office, 14 W. Park Place, Suite C. A printable PDF is available on their website, enjoyoxford.org. More information on Oxford's history is available at the Smith Library of Regional History, 441 S. Locust St.