Butler County United Way pledges over $600k to local charities
Butler County United Way will allocate over $638,000 to programming and communities in 2020-21. Given the economic and social impacts of COVID-19, the organizations supported by the funds could play increased roles in the community.
Butler County United Way raises funds to support various service organizations and programs in the county that promote education, financial stability and health. The nonprofit organization said it raised more than $1 million in goods and services over the last year.
According to the organization, $280,000 of the money raised will be allocated to the following education programs: 
4C for Children

, Advancing to High Quality

Axis Teen Centers, Edge Teen Center

, Academic Success

Big Brothers, Big Sisters of Butler County

, One-to-One Mentoring

Boys & Girls Club of Hamilton

, After School and Summer Youth Development

Boys & Girls Club of West Chester/Liberty

, Power Hour

Envision Partnerships

, Project Success

Fitton Center for Creative Arts

, Community Outreach

Hamilton Living Water Ministry, Inc.

, Building Success – Children and Youth Programs

Lifespan, Inc.

, School Based Support Services

PARACHUTE: Butler County CASA

, CASA Advocacy: A Voice for Abused Children

Shared Harvest Foodbank,

BackPack Program
Another $126,000 will go to programs that support financial stability:
American Red Cross Ohio River Valley

, Disaster Emergency Services and Preparedness Programs

Family Promise of Butler County, Inc.

, Service Coordination for Diversion

Hope House Rescue Mission, Inc.

, Emergency Shelter

Talawanda Oxford Pantry and Social Services

, Food Pantry

Oxford Family Resource Center

, Emergency Assistance Funds

Shared Harvest Foodbank

, Comprehensive Hunger Relief Program

YWCA of Hamilton

, Dove House
And, $141,000 to programs that promote healthy lives:
Butler County Special Olympics

, Butler County Special Olympics

Cancer Family Care

, Center for Individual and Family Counseling

Catholic Charities of Southwestern Ohio

, Comprehensive Behavioral Health Care

Cincinnati Association for the Blind and Visually Impaired

, Vision Rehabilitation Services

Fairfield Prevention Coalition

, Youth Wellbeing and Resilience

Oxford Senior Citizens, Inc

., Adult Day Services

Oxford Senior Citizens, Inc.

, Outreach Services

Oxford Senior Citizens, Inc.

, Recreation and Wellness

Oxford Senior Citizens, Inc.

, Senior and Medical Transportation

Primary Health Solutions

, Access to Integrated Dental Care

Sojourner Recovery Services

, Perinatal Program

Women Helping Women

, Butler County Rape Crisis and Prevention Services
Steve Schnabl, executive director at Oxford Senior Citizens, Inc, said the contributions will be contingent on whether Butler County United Way collects all the money that has been pledged.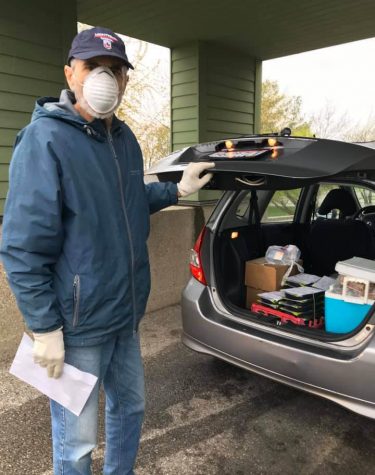 Schnabel said that while Oxford Seniors has seen an increase in individual contributions, with increased need caused by the pandemic, Butler County United Way has not seen a similar effect because they're not a direct service provider. Schnabel said people in Oxford have been especially generous during the time of increased need.
Krystal Tipton, Vice President of Community Relations at Butler County United Way, said 75% of allocations for this year's contributions are guaranteed while 25% are contingent on meeting funding expectations.
"Our direct donations are up," Schnabl said. "People are being very generous because they know the importance of what we do."
Schnabl said Butler County United Way usually contributes about $35,000 a year to Oxford Seniors and that all funding is important to nonprofit organizations. Schnabl said while Oxford Senior Citizens, Inc. has closed its senior center and adult day services since the pandemic, its meals on wheels program and senior transportation services were deemed essential and are ongoing. Schnabl said operations have changed, with precautions being taken to protect workers and clients against COVID-19.
Ann Fuehrer, executive director at TOPSS (Talawanda Oxford Pantry and Social Services), also said there has been an increase in community support by direct donation.
"Individuals in the Oxford community have always been particularly generous in financial contributions," Fuehrer said. "But that's been particularly true since March. People are very aware of increased economic need among families in this school district… Some are people who would've made donations anyway and may increase the amount that they donate, others are new donors… We've had people say 'this is my stimulus check' or 'this is a portion of my stimulus check.'"
TOPSS has been able to accommodate the increased need, according to Fuehrer. "We're able to purchase the food and receive donations that meet the demand of our customers," Fuehrer said. TOPSS has changed its operations to meet safety precautions regarding COVID-19 by accommodating people through at-home delivery so they can stay quarantined. This has led to some increased costs in gas and maintenance, Fuehrer said. She also acknowledged that funding from Butler County United Way will be contingent on the organization receiving the necessary funding to make those commitments.
Butler County United Way was founded in 1920. "We continue to fight for the health, education, and financial stability of every person in every community," Pam Cottle, vice president of operations, said in a press release. "We win by LIVING UNITED…by forging unlikely partnerships…by finding new solutions to old problems…by mobilizing the best resources…and by inspiring individuals to join the fight against their community's most daunting social crises."