Red Brick Fridays become a hit among locals
With the disruption caused by COVID-19, the city of Oxford got creative with a series of socially distanced events this summer: Red Brick Fridays.
Red Brick Fridays were a way to encourage townspeople to come up to the brick-paved part of High Street running past Uptown Parks. The area, known as the city's DORA (Designated Outdoor Refreshment Area), is where businesses set up sidewalk tables and patrons were encouraged to buy beer in specially marked cups and stroll the area.  The goal was to bring people together outdoors, safely. 
Assistant City Manager Jessica Greene said the idea worked. 
"I think they were very well received over the summer, by both our business owners and the residents who attended," she said. "We felt that by closing the road and allowing businesses to come outside would allow for a lot of social distancing to occur within a six-block area. We felt that residents really followed the safety protocols and it was a really positive event."
High Street was closed off between Beech Street and Campus Avenue from 5 to 9 p.m. on three different Fridays during the summer. The events were specifically planned for a time when Uptown would not be teeming with college students because most of them had left town for the summer. Rather than lines outside of crowded bars, the Red Brick Fridays featured families with kids in strollers and conversations around well-spaced outdoor tables.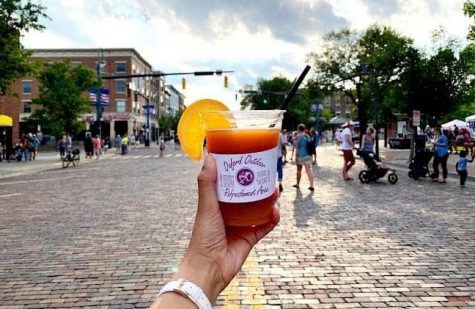 The last of the special Fridays was a week ago, on Aug. 7. Now that Oxford has experienced the idea of Red Brick Fridays, the city would like to continue the idea in some manner, Greene said.

"For the first three we've ever had, I thought they went remarkably well. The only thing I wish we had would be public restrooms; that's something that we have on our radar for the future, when thinking long-term," said Greene.
With the colder months coming, Oxford hopes to try to figure out a way to continue these events over Miami's winter break. 
"They were designed to be for when the students are not here," Greene said. "There is some interest in seeing what we could do with student population being back here. No decisions have been made, but discussions are occurring about what we could and couldn't do."