Oxford to the NFL: Sloman signs rookie deal with Rams
Former Miami RedHawk placekicker Sam Sloman signed his rookie deal with the Los Angeles Rams on July 27. The deal comes after Sloman was drafted in the seventh round with the 248-overall pick.
Sloman leaves Miami as the program's greatest kicker of all time and earning All-American honors while kicking the RedHawks to a Mid-American Conference championship. Among a season of highlights that saw him go 4-for-4 in the MAC championship game and make 4-of-5 field goals over 50 yards on the season, Sloman emerged as a standout in a nationally televised game against Ohio University in the Battle of the Bricks Nov. 6.
Sloman kicked the game winning 53-yard field goal with four minutes left to play.
"I'm just ecstatic for him, it's well deserved," Miami Football Head Coach Chuck Martin said. "Anyone who's watched him kick knows that he kicked as good as anyone in the country last year."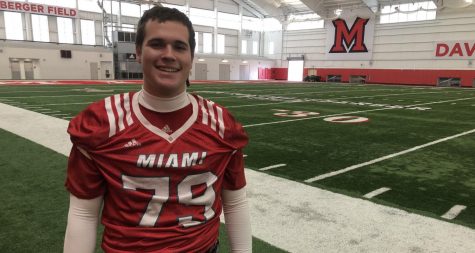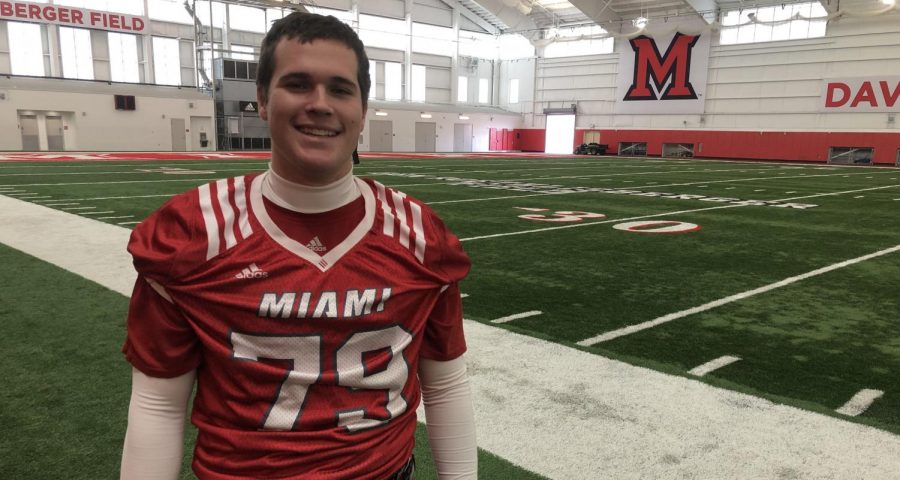 Sloman finished his career ranked second in made field goals (49) and senior year hit 26 of 30, which was the most in a single season in Miami history.
The Atlanta, Georgia native now takes his strong leg to Los Angeles to join head coach Sean McVay, former Miami wide receiver from 2004-07. The Oxford connection doesn't stop there, as three other coaches on the Rams coaching staff played football at Miami, including offensive line coach Aaron Kromer, outside linebackers coach Chris Shula, and assistant strength and conditioning coach Dustin Woods.
"It's cool and it's ironic that he gets to go and play for McVay," Martin said. "I didn't care where he got drafted, but I saw it was the Rams and I was even more excited knowing all the Miami ties there too."
Normally, rookies come out to Los Angeles around the middle of June for rookie minicamp and organized team activities before having three weeks off before camp starts, but this year is no normal year. Due to the coronavirus pandemic, the Rams and the rest of the teams in the NFL had to change how they conduct business in the preseason. 
This year, the Rams held six weeks of virtual organized team activities (OTA's) via Zoom Monday through Friday to help the rookies acclimate to the team. Monday through Wednesday meetings were position-specific while Thursday and Friday were designated to team meetings. Rookie development meetings were also held Friday, where speakers were brought on to talk about the benefits of playing in the NFL, and financial advisors talked about how to handle money and get a financial team.
"It's a little weird because I'm living out a childhood dream, but it looks a little different than it does every single year," Sloman said. "But also, I have to remember how fortunate I am to be in this position."
In response to COVID-19, the NFL has implemented a plan to mitigate the spread in hopes of having a season. Each day before practice, players fill out a survey with questions about symptoms before they enter the facility, and once they are in, they get their temperature taken. The Rams built a second locker room to accommodate for spacing each player's locker eight feet apart. 
In addition, each player wears a device that monitors when they are within six feet of somebody else wearing one. If a player tests positive, anyone who had extended exposure to them recently has to sit out 24 hours. Monitoring exposure will be done using the contact tracing devices.
"I think some guys are a little worried," Sloman said. "For me personally, I'm more worried about the possibility of getting it (COVID-19) and missing time. I'm in a competition and I'm excited for that, the other two guys are excited too."
Other major sport leagues in the U.S. have returned to play including Major League Soccer (MLS), the NBA, the MLB and the National Women's Soccer League (NWSL). The MLS, NBA, and NWSL have all opted to return by playing in a "bubble" in Orlando, Disney World and Utah, respectively. The MLB has opted to play games in each team's home market, shortening the schedule from 162 games to 60 games against divisional opponents and opponents from the corresponding division in the other league. The MLB has struggled with positive cases as at least three teams have been impacted by positive tests since the season resumed last month.
The NFL and NFL Players Association (NFLPA) are still negotiating preseason game plans.
"I think people want to see a bubble, but I think it's a little unrealistic to try to do a bubble for a five-month season," Sloman said. "The amount of players, how long the season is, people have families. I think every single team is taking the right protocols to put themselves in the best situation. But at the end of the day you can only mandate so much at your own facility, it's up to the players to be responsible and make good decisions off the field and if they have symptoms to say they're sick before coming in."
Although there are many variables and a rotating target of COVID-19, Sloman is focused on the goalposts right in front of him: beating out two other experienced players for the starting kicker position on the Los Angeles Rams.
"It's going to be a lot of fun. Both guys (Austin MacGinnis and Lirim Hajrfullahu) are really good and I respect them a lot," Sloman said. "They've both played professional ball which is something I haven't done. They're a little bit older, but I think it's going to be a fun opportunity for all three of us to compete and give our best day in and day out. I think it'll make the competition that much better."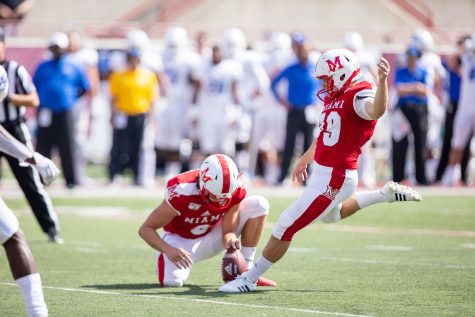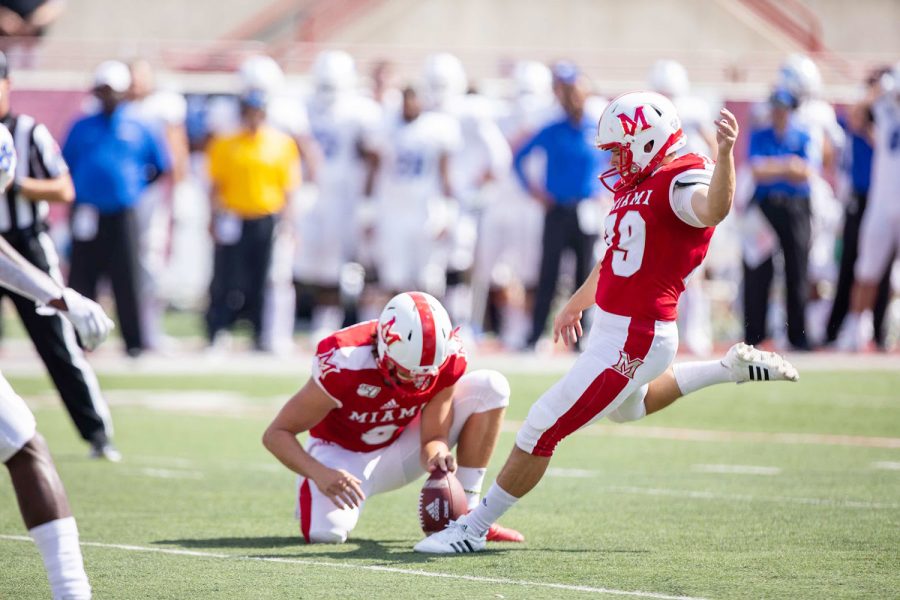 Competition was one of the things that made Sloman so successful at Miami. He, along with the rest of the special team's unit including Evan Crabtree and Kyle Kramer, took a different approach to special teams at Miami. 
"Him (Sloman) and Crabs (Crabtree) and Kramer were so dedicated to trying to show the whole team that we're not specialists, we're football players and we're going to do everything that you guys do," Martin said. "We're going to lift like you guys, run like you guys, practice like you guys."
This helped to earn the respect of their teammates from the beginning.
"There were times during drill work where our specialists would be holding bags," Martin said. "Sloman would be out there holding a bag, Kramer's out there holding a bag, and at a lot of places, the specialists do their own thing and become their own little group."
While he was valuable on the field, earning the football team's Most Valuable Player and Miami Male Athlete of the Year, Sloman will be missed off the field as well.
"Obviously besides his tremendous talent and kicks that helped us win games, just him and Kramer and Crabtree's approach was different than I've seen in all my years of coaching," Martin said.