Art Museum Turns 40 and Hosts New Exhibition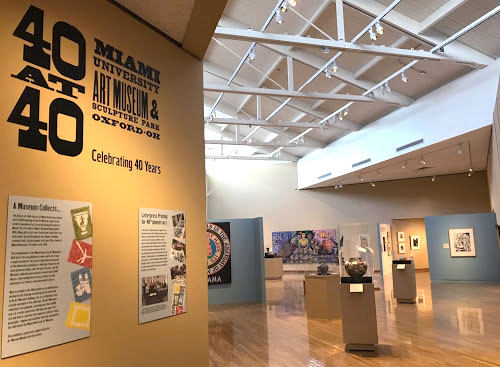 The Miami University Art Museum (MUAM) is celebrating its 40th anniversary with a special exhibition, "40 at 40," which launched January 29 and will be open until June 8.
The exhibit showcases 40 significant works from the entire 17,000-piece collection. The exhibit offers a variety of paintings, sculptures, and historical artifacts with more than half representing foreign cultures. Krazl worked with Professor Erin Beckloff's Letterpress class to create poster and logo designs inspired by the artwork.
"The exhibit focuses on the breadth and depth of the Art Museum's collection," said Sherri Krazl, the museum's marketing, and communications coordinator.
‍
‍
The museum's "most traveled piece," Robert Indiana's Confederacy: Alabama, has been lent to numerous other museum exhibitions around the country. Indiana is known for his pop-art, including his famous "LOVE" sculptures that scattered in various cities across the country.
If you glance beyond that, your eyes will fall upon Miriam Schapiro's Conservatory, a portrait of Frida Kahlo who is known as one of Mexico's most famous artists.
As a tryptic mural, it divided into three panels, and if you look closely, you can see the incredible textures protruding off the canvas from the college of acyclic and fabric.
Compelling as it may be, Krazl advises visitors not to touch the art, and a marker on the exhibit reminds curious museum-goers as a precaution.
A Collection Begun in 1820
According to MUAM's Spring 2019 edition of "Visual Arts at Miami" publication, the university began collecting art from donors in the 1820s, but did not begin organizing the museum until the 1970s.
Its unique architecture designed by Walter Netsch, best known for his work on the United States Air Force Academy Cadet Chapel, separates it from the rest of Miami's red-brick campus.
It is also recognizable by the abstract-looking red sculpture, For Kepler, in the front lawn. The 20-foot-long sculpture and its geometric beams represents the motion of planets, and is named after the astronomer Johannes Kepler.
Part of the sculpture park consists of nine sculptures scattered around the museum's property. These sculptures were built during the first twenty-thirty years.
The museum was accredited by the American Alliance of Museums, so it is free and open to the public. It strives "to be a top-notch art museum resource," said Krazl. "We always have something for everyone."
Its ongoing exhibitions include the Charles M. Messer Leica Camera Collection. Containing 130 pieces, it is the most extensive collection of Messer's belongings in North America.
Besides donating his collection in 1970, Messer also operated the Messer Construction Company that built the museum.
In 2018, the company was awarded the renovation contract for the two oldest buildings on Miami's campus, dormitories Elliot and Stoddard.
Collection Represents Multiple Styles and Cultures
Krazl believes that "Art History at a Glance" contains works that "people would expect to find in an art museum." Some recognizable artists with pieces showcased in this exhibit include Warhol, Picasso, and Rembrandt.
‍
‍
The "Global Perspectives" ongoing exhibition represents fifteen different cultures and displays various historical artifacts. This exhibit embodies the museum's motto, which Krazl says is "engaging global visual culture."
Besides continuing these educational exhibits, other MUAM goals include collaborating with Miami faculty and connecting with the public.
"We're a teaching museum," said Jason Shaiman, exhibition curator. He hopes that the museum will continue to incorporate education-based exhibits that can integrate into Miami curriculums.
Supporting Learning Through Involvement
While the museum works with university faculty and students, it also sponsors outreach programs for younger students.
Family Fun Days are tailored to families with children in kindergarten to fifth grade. Led by museum docents, groups receive tours and create their own art.
"Learning is more powerful when you can see something up close and stare at it a while," said Krazl.
MUAM supports student learning through personal involvement and employment as well. This semester, there are about 70 students involved with the creation of art, curating exhibitions, or interning at the museum.
Shaiman, who has worked at the museum for eight years, feels that the museum has continued to increase student involvement, particularly with the development of the exhibitions.
MUAM has two student-produced exhibits. This semester's capstone exhibit, "More Than an Object: Engaging the Broader Context of African Art," was curated by students.
This opportunity is unique to MUAM since this type of work is usually incorporated in graduate-level curriculums.
"Outside the Box" is the fifth Student Response Exhibit, which displays works created by Miami students. Visitors can vote for their favorite piece, and the top three students will be awarded cash prizes at the celebration on April 9.
MUAM is free and open to the public Tuesday-Friday from 10 a.m.-5 p.m. and Saturdays from noon-5 p.m.
‍