If organizer Dan Retherford has his way, motorcycles will roar through Oxford on Oct. 28.
This is not your typical biker gang meetup. This will be a family deal. From 1 to 5 p.m. at LaRosa's parking lot, Retherford hopes fellow motorcycle riders will come and park their bikes,and hang out to swap stories, advice and parts in order to build a community of motorcycle riders.
"You think about these bikers in the past it was all leather, it was people that had criminal records this or that," said Retherford. "And you got people like me, military, clean cut. I don't like leather a lot and definitely don't like being arrested."
Retherford, from Richmond, IN, works at the Knolls of Oxford after serving 27 years in the Air Force. He said he came up with the idea for the Oxford Motorcycle Rally while chatting at the town's LaRosa's with owner Joelle Engelhard, who loved it. LaRosa's is a sponsor of the event.
Retherford will have 200 blue custom Oxford motorcycle t-shirts for sale. The proceeds will go to the Cincinnati Children's Hospital, he said.
He said the cause is important to him because he lost a baby niece to brain cancer more than 20 years ago. He hopes the funds will go to support families who are struggling with the loss of a life many years later.
"Life is short, life is not guaranteed, not even for the little ones," said Retherford.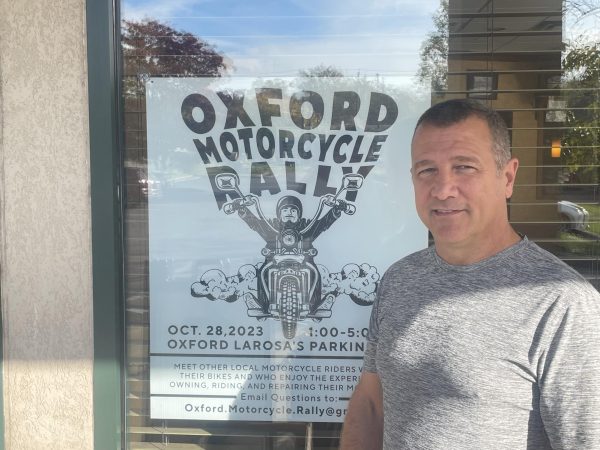 Motorcycle riding means different things for each rider, but they share a bond over the unique thrill of "going 78 mph (or faster) looking under your feet you're looking down and there's just concrete," said Engelhard.
"I've never met anyone who would die for their passion like Harley riders," said Dean Silverberg, a Miami University junior who rides a 2003 Harley Davidson Heritage Softail Classic and plans to go to the event.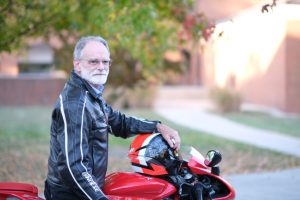 Architecture professor J.E. Elliott, who rides an MV Agusta F3, also plans to attend the event. "Riding a bike is therapy for me," he said. "I like that it's just me and a machine and nothing else. It's the only time I am 100% focused on something."
Retherford said he hopes to make the rally a tradition and involve vendors and additional corporate sponsors.
"Who knows, I would like to turn this into a little Sturgis," he said.