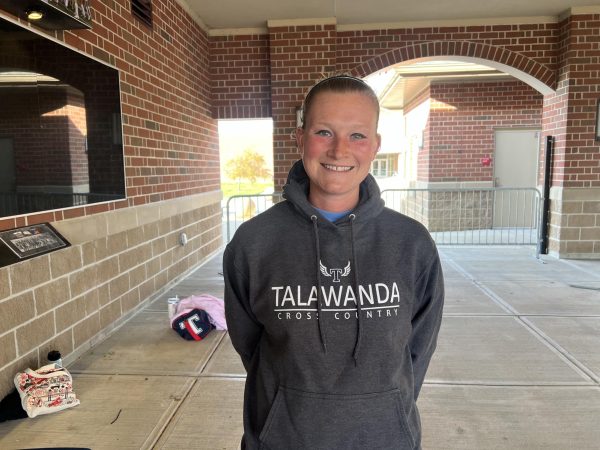 Talawanda cross country coach Amelia Oberschlake and junior runners Lucia Rodbro and Max Bixler were awarded top honors following the 2023 Southwest Ohio Conference Cross Country Championship on Oct. 14.
Talawanda took home the championship for the seventh consecutive year. Lucia finished first in the high school girls race with a time of 18:44. Max also finished first in the high school boys race with a time of 16:13. The team will compete at districts at 1 p.m. on Oct. 21.
Oberschlake, who is in her second year as coach and won the award for the second time, attributed the team's success to the athletes.
"They are why I'm here," Oberschlake said. "Their energy just drives me to continue to grow my knowledge in coaching in every aspect and learn how to better them as individuals and runners."
Lucia won the 2023 SWOC girls cross country runner of the year award and Max won 2023 SWOC boys cross country runner of the year after their wins in their respective races.
"Training with our teammates definitely helps," Lucia said. "I think we definitely motivate and push each other to do better, and it kicks away some of the stress."
The runners said training every day was the key to their success.
"I think just consistency throughout the past year has been building mileage and building a good base," Max said. "It helped us improve."
Lucia and Max both said their coach was "supportive."
"She's always been really supportive and motivating," Lucia said. "She's given us all the opportunities to run at competitive meets and just have good training."
"She's really supportive," Max said. "She lets us craft our workouts and lets us do what we want to do, while also making it structured."
Oberschlake said the runners' motivation inspired her.
"I love their drive," Oberschlake said. "I can come to practice every day, and they always have a smile on their face no matter if it's an easy day or if it's a workout day, they're ready to go."
Oberschlake began coaching Girls on The Run for kindergarten through seventh grade in 2018, which is a non-profit organization that inspires confidence and encourages physical health in young girls. She then became the Talawanda Middle School cross country assistant coach, where she stayed for 4 years before making her way to head coach at Talawanda High School in 2022.
Oberschlake has been a member of the community for a long time. She graduated from Eaton High School and went on to attend Miami University for undergrad. She was a student teacher at Kramer Elementary School and now teaches science at Talawanda Middle School.
Since cross country is such a mentally challenging sport, Oberschlake said she does her best to make sure the kids know they have her as a support system.
"We always tell them if it hurts, don't do it," Oberschlake said. "That's always been one of our mottos."