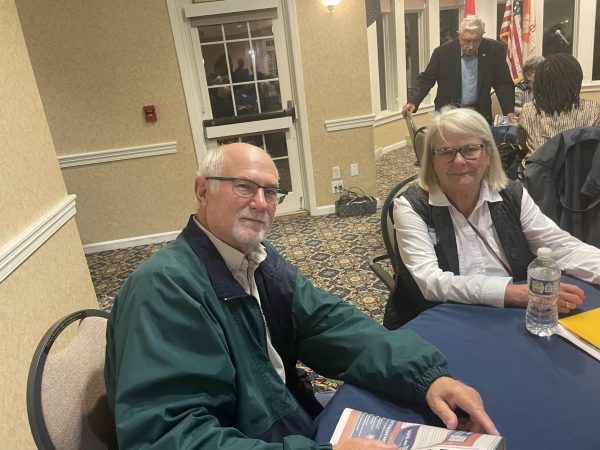 What does speed dating look like for civic-minded seniors of Oxford?
Last week, dozens of seniors waited single file to personalize a name tag and find a circle table in the Knolls of Oxford auditorium, all for eight minutes with the candidates for Oxford City Council, Talawanda Board of Education, Oxford Township Trustees and Butler County Educational Service Center.
Common questions overheard were about education funding, getting Miami University to contribute to Oxford Fire Department expenses and finishing the Oxford Area Bike Trail.
"They didn't come for a specific problem but more so wondered, 'what are you going to do about it,'" said councilmember Jason Bracken, who on Nov. 7 will be one of four candidates for the three seats on Oxford City Council.
For the speed-dating event, organized by the Oxford League of Women Voters, five citizens, one candidate and one league volunteer sat at each of the 15 navy blue circular tables.
The candidates rotated tables every eight minutes signaled by a shaker noisemaker held by a League organizer. Some candidates would linger at tables until the last possible second to get their final thoughts out before switching.
"I would ask them to introduce themself, why they're running, projects they've worked on, and made sure everyone had a chance to speak," said Cameron Tiefenthaler, a Miami student and league member who monitored a table at the event.
Citizens like Marsha Williamson pressed Board of Education candidates about a school levy and potential solutions to the district's budget problems.
"There's a lot of misinformation about the levy and finances," said participant Marsha Williamson. "People I talk to don't understand the levy fully and its implications."
One candidate, Ivan Carver, tried to bring clarity and insight into these concerns.
"The levy can be very confusing, but I don't think the levy is an option," said Carver, in a polka-dotted button down shirt with a red tie. "I think we need to get more creative."
Carver said he hoped to bring his passion for kids and his unique perspective to the board.
The Talawanda School Board has also discussed assigning elementary students to the three elementary school buildings in the district according to grade, so only a few grades would be taught in each building. Participants sitting with Board of Education candidate Chris Otto said they were worried this might fracture the community.
"As we lose more and more money, it becomes a more viable option," said Otto, who wore a blue shirt and red tie with a brown blazer. He's served on the school board for more than 7 years.
At tables with city council candidates, participants asked why Miami University isn't contributing to the Oxford Fire Department and what the candidate plans to do about it. Over 50% of the department calls go to Miami, but they do not pay anything, according to incumbent city council member and mayor William Snavely.
The fire department and emergency medical services are underfunded and understaffed, with so few firefighters that they are on 48 hour shifts, Snavely said.
City council candidate and former mayor Michael Smith agreed that the university needed to contribute to support the fire department and EMS.
"Miami is only interested in what we can do for them," said Smith, who is running again after serving on the council for 8 years in the past.  "It's not really a two-way street with them."
Additionally, many residents were curious about the candidates' positions on the Oxford Area Bike Trail. Wright Gwyn, who served on the city's environmental commission, asked candidates if they supported more bike paths for Oxford. He said he was voting for those who showed interest in the paths and sustainability overall.
"I would love to see the Oxford Bike Trail completed," said city council candidate Jon Ralinovsky. "Without the trails, it's not safe to ride around for families or anyone really."
Ralinovsky served on the Environmental Commission for the past 7 years and now hopes to advance to city council.
Residents said they found the event to be helpful in providing clarity to issues and understanding the candidates' stances.
"I've never gotten first-hand information like this," said Oxford township resident Steve Wright.
His wife, Sandy Wright, agreed. "I know who I'm going to vote for now."
The League of Women Voters organizes this event every election cycle to offer voters intimate interaction with their political representatives, said organizer Liz Wardle.
"It is more about policy than it is about campaigning or arguing. This is true democracy at work."