Disagreements within Oxford City Council have spilled over into the race for Oxford Township Trustee, as current city council member Glenn Ellerbe, 43, runs to replace former Oxford Mayor Kate Rousmaniere, 64, for a seat on the three-member township board.
Only residents of the city of Oxford may vote for city council, while residents of the city and township vote for township trustees. Taxes collected within the city can be used within the township. City council members are term limited to two terms, or eight years. 
The trustee race is non-partisan, but Rousmaniere is a registered Democrat while Ellerbe is registered as independent.
Rousmaniere, who lives at 10 Quail Ridge Drive, was on city council from 2011 to 2019 and was chosen by council to serve as mayor from 2015 to 2019. Glenn Ellerbe, who lives at 158 Silver Leaf Drive, is nearing the end of his second term on city council. 
Ellerbe was city councilor when Rousmaniere was mayor and said she was a "special interest politician" who focused on passing policies that would benefit herself. 
Ellerbe recalled a vote on the installation of bike lanes several years ago on McGuffey Ave. Ellerbe said Rousmaniere was determined to build the bike lane along the entire length of the road even though residents would no longer be able to park on the road outside their houses.
"The desire to have exactly what she wanted got in the way of other people' happiness," Ellerbe said.
Ellerbe likened himself to Jon Snow, the main hero from Game of Thrones, in that he said he liked to avoid petty squabbles to focus on the main issues facing the community. He said Rousmaniere and her allies on city council often refused to compromise and didn't take his perspective in mind when mapping out Oxford's bike lanes.
Rousmaniere said she voted similarly to Ellerbe on many issues while on city council, so she doesn't understand why her opponent would think she's a "special interest politician."
She said that the only organization that she may have taken money from was the Butler County Progressive PAC, a progressive political action committee largely made up of activists from Oxford.
The Butler County Board of Elections confirmed that neither candidate has reported campaign donations within the past six years, at which time records are discarded. According to the board, the only indication of either candidate purchasing something for their campaign was in 2019 when Ellerbe reported using $750 of his own money to purchase campaign signs from Lebowski.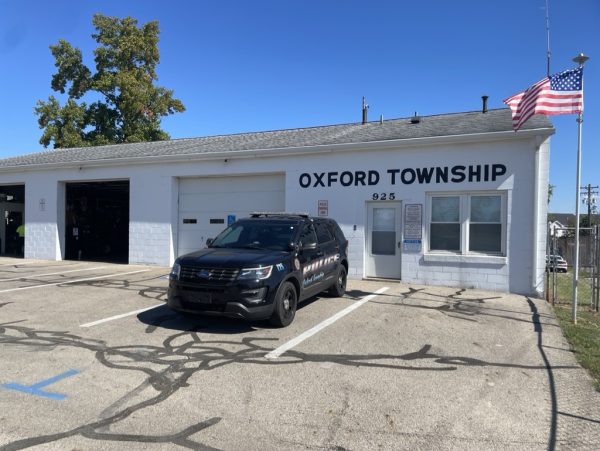 Both candidates identified internet access as the biggest issue facing township residents.
Rousmaniere said the issue of a lack of access to good broadband internet in the rural areas of the township has several negative effects on the community at large. 
"[Some] Talawanda kids had to park in the McDonald's parking lot to get access to their homework because they didn't have Internet," she said.
Ellerbe said that continuing the broadband program would also be his highest priority.
"Not everyone has it in the same capacity as other people," Ellerbe said. "Everyone needs it. Now, it's not a utility and especially out in the township, they're desperately underserved when it comes to that."
Rousmaniere  has been a professor of educational leadership at Miami for 31 years and has written four books on that subject.
Ellerbe works in IT at Miami's One Stop center where he helps with enrollment management, career services and Bursar accounts.
Current trustee Norma Pennock, who is not up for reelection, said townships in Ohio do three things: maintain physical infrastructure like roads, water drainage and cemeteries. 
Pennock, who was appointed in 2016 after the previous trustee moved away, worked as an engineer before retiring and becoming trustee. Pennock said another major project the township government is working on now is electrical aggregation.
The proposed electrical aggregation policy aims to lower electric costs by increasing the purchasing power into a new entity that is able to negotiate directly with large electric companies like Duke Energy.
"This includes residents who are served by a profit-making electric company like Duke or perhaps AES, but not Butler Rural Electric," she said.
Oxford Township voters will have a chance to vote on this issue and on the trustee election on Nov. 7.