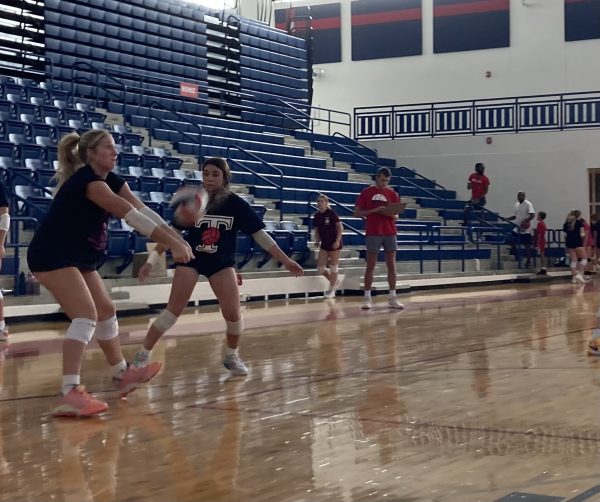 Despite its loss against Harrison on Sept. 15, Talawanda Girls Volleyball still boasts a nearly undefeated record of 10-1 and hopes to take on the title of SWOC Champions this season.
What can the team attribute to its success? Coach Ruchelle Dunwoody says it's teamwork. At the match against Harrison, Talawanda came out strong. Mckenna Johnson scored the first point with a kill, leaving Harrison diving to try and return her hit. Talawanda kept up the energy and scored its second point from sophomore Abby Noga, who served an ace.
Unfortunately, Harrison came back stronger and won three out of the four sets, 17-25, 25-23, 25-21 and 25-2.
This year, Dunwoody says the team acts cohesively. A major factor is that seniors who comprise the core of the team have played on varsity since sophomore year. Another is the large group of sophomores added in this year.
Senior Leah Noga said she can't deny the team's chemistry on and off the court.
"We have very good friendships on the team, so it helps with being successful. It's a lot easier to trust somebody or to have a good bond with them, and that all turns to having a good team and a good director," Leah said.
She said she loves the atmosphere that the team and Dunwoody have created. Myah Keene, another senior on varsity, also identifies something special about this group that feels different from years past.
In the Talawanda gym during practice, the intensity in the room is high. Players stand ready on the court to dive and spike for balls. Rap music blasts through the speakers as the girls look to attack their next drill. Through the music, words of encouragement can be heard from other players, hyping up their teammates as they watch intently from the sidelines.
"There's nothing that can come between us. Anything that happens, we all come back together and it's just something different because we're all best friends and volleyball is something that we all do together," Myah said.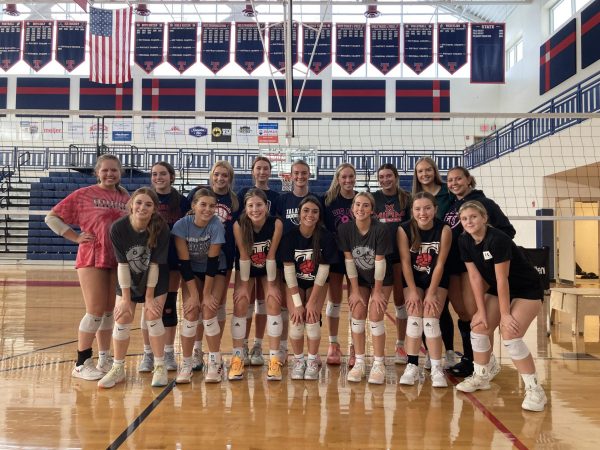 The team was working together, playing an eight-game undefeated streak, until the team's path took a detour when Leah was injured at home. She can only recall standing up in her bedroom and then immediately falling. On her way down, she hit her head on the corner of her wooden desk, scratching it open. She suffered a concussion, requiring 10 stitches, bloodwork and an EKG.
With Leah out until further notice, the team had to move forward. One of Dunwoody's solutions: inspirational quotes. She seeks out nuggets of advice that she can instill in her players for when they are on and off the court. The theme for last week was adversity. So, Dunwoody shared with the team a quote from Dallas Cowboys Quarterback Dak Prescott:
"Dear Adversity, Thank you for the opportunity."
Myah said the team is "facing the challenges that we're given at any game and we're just taking them and going."
"We have a lot of energy within us and that's something we use every time," she said.
Pushing forward into the season with her dedicated and enthusiastic team, Dunwoody has her eyes on section finals. Last season, Talawanda Volleyball lost to Harrison in the finals, but this year Dunwoody said she thinks her team matches up to Harrison player to player.
Dunwoody said that one of her goals was "out-teaming" everyone.
"Standing together, trusting the process and then making sure that regardless of the outcome that they remember, the experience with each other is the most important. Win or lose," Dunwoody said. "You have no control over that, but you do control your energy, your effort, and then your interactions with everyone."
Volleyball's next game is 7 p.m. Sept. 21 away, against Mt. Healthy.
The next time they match up against Harrison is 7 p.m. Oct. 5 at William Henry Harrison High School.