At Hometown Eatery, a Pepsi fridge sits near the cash register, filled with homemade desserts. A corkboard hangs on the wall with local business cards held up by thumbtacks. A saying decorates the wall that reads, "Hometown Eatery: Where food, friends & memories are made."
Angie Hunter, owner of Hometown Eatery, 700 Liberty Ave. in West College Corner, Indiana, said she's proud to serve the classic American breakfast to Oxford and College Corner residents.
The restaurant closed during the COVID-19 pandemic. Hunter, a Liberty resident, was given the opportunity to purchase and reopen the restaurant.
"I worked here for the previous two owners and when they closed down, it just broke my heart and half the town's heart," Hunter said. "I took a few weeks to think about it and then decided to just go for it."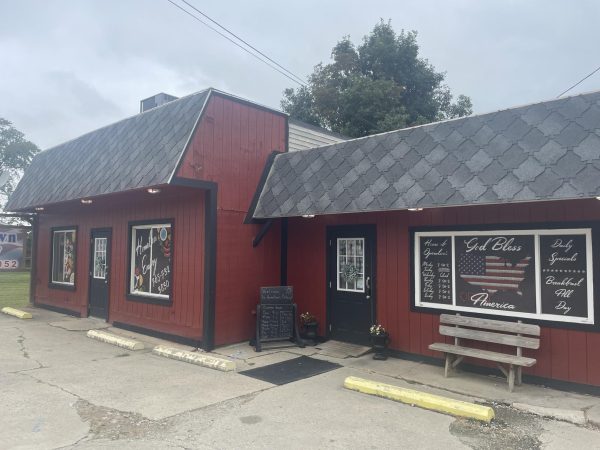 Hunter bought the restaurant and reopened it in September 2022, restoring the local diner. Since then, Hometown Eatery won "most improved business property" from the We Care About College Corner Committee.  The award hangs in the restaurant.
That's not to say the diner looks all smooth and shiny. Its interior looks well-used from the customers who continue to come because they like it so much.
On a recent morning, customers continued filing into the restaurant past noon to get their eggs, potatoes and coffee. The waitress walked to every table, always making sure everyone had enough to eat and drink. One man stayed in the corner of the diner for about an hour watching reruns of "Family Feud" on the television.
Green construction paper sat on the counter with specials written in marker. Every unused table is stocked with sugar packets and condiments. Flowers sit in vases inviting customers to come in and stay a while.
"I really like that it's laid-back here," said Beca Dickenson, Hunter's cook, as well as her cousin. "It gets kind of busy sometimes when the college kids are on summer vacation, but I really like the atmosphere here."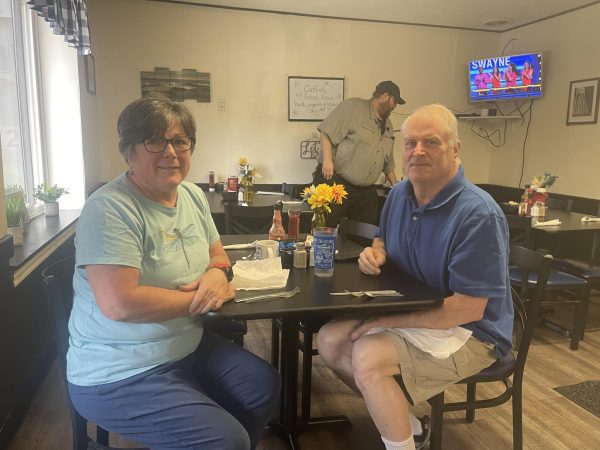 Oxford resident Terri Fitton said she enjoys the drive to the restaurant and is drawn to its friendly climate.
"I like the feel of it," Fitton said. "It's casual and comfortable. They know you when you come in."
Hunter says many customers come for the atmosphere, more than the food.
"It's somewhere to go to socialize," Hunter said.
She said between 10 and 20 men come in to breakfast together as soon as the restaurant opens each day.
"They were really upset when [the diner] closed down," Hunter said.
Hometown Eatery is open 7 a.m. to 2 p.m. on Mondays and Thursday through Saturday. It's open 9 a.m. to 2 p.m. on Sundays.