Talawanda student continues family race car tradition
Jack Sullivan races cars in his spare time. Or, rather, he races cars and gets ahead in school in his spare time. The 17-year-old is a great welder; he works on his own car in a barn. He also built his own racing simulator that sits in his room below photos of his great-grandfather flying planes in World War II.
For Jack and the Sullivans, racing might as well be a family business. Jack's great-grandfather test-piloted planes and raced cars in his spare time while serving in the Air Force. His grandfather raced. His dad, Jeff Sullivan, even did some autocross in his 30s. Jack's inclination toward Formula F1600 might be, put simply, in his genes.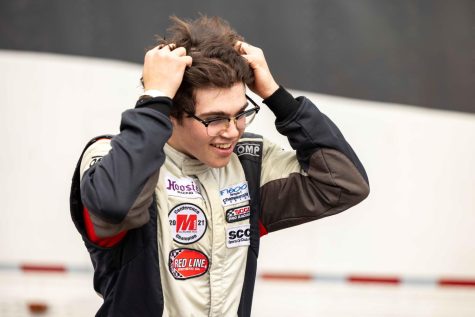 But, it isn't simply that Jack races. It's that he's great at it. He's lightning-fast and wins races like he's on a professional team, even though his team leaders are his father and his grandfather. 
In F1600, an entry-level pre-cursor to Formula One, only eight races have been won in the last decade by non-professional teams. Jack's won four of them. In his last outing in Lime Rock, Connecticut, Jack won two of the three races offered–one of them by more than 20 seconds.
"I like to compare myself to the greats," Jack said, people like Josef Newgarden, winner of the 2023 Indianapolis 500.
Jack said that a few times, children at races approached him for an autograph, including a 5-year-old that looked up to him in awe.
"He was nervous as if I was some legend…" Jack said. "It felt awesome. I couldn't get enough of it."
Jack is tall, with short brown hair and glasses. Next year he will be studying through the College Credit Plus program at Talawanda to finish his degree. He also plays guitar.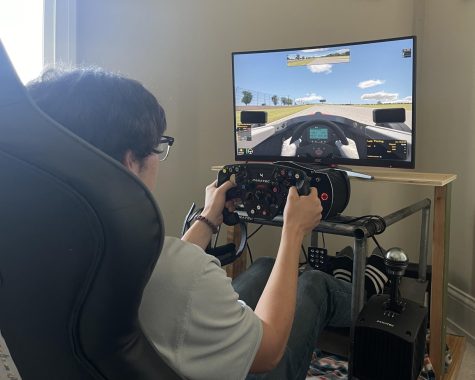 But, in between all that, he's working. He is building his custom driving simulator, a rig made of metal pipes and wooden planks that replicates the feeling of being inside a small race car. It has pedals, a steering wheel and a gear shifter. Software replicates the courses he knows and the ones he might one day race. It has everything but g-force built right in. Or he is racing. His 2009 Piper DF-5 Formula Ford is constantly being worked on, or at least looked at. 
When the simulator is brought to life, it rumbles with every bend around the track. It's quick racing, but the car never broke 60 miles per hour. 
When the simulator is brought to life, it rumbled with every bend around the track. It's quick racing, but the car never broke 60 miles per hour. 
I took a turn. Within seconds, I hadn't even hit 40 miles per hour and I was spinning in the grass, steering wheel trembling in front of me. 
Jack's room, and his entire house, is filled with reminders of his races. He has life-sized cardboard cutouts of him in racing uniform in the garage, and on the dresser in the guest bedroom, many medals and trophies are on display surrounding bottles of champagne.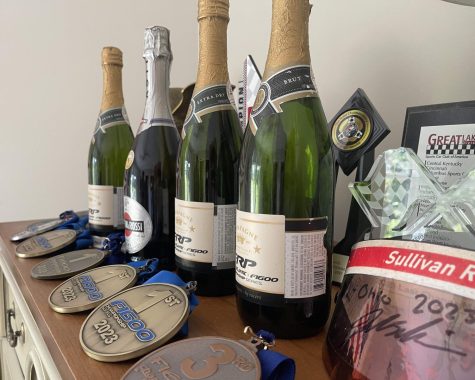 "Obviously, I don't drink them," Jack said.
His dad, Jeff, said he has devoted his vacation time to making this dream a reality. It's an expensive hobby. Jack's mom, Lori Sullivan, said she doesn't want to know the price.
"The pros have everything," Jeff said. "I'm just winging it. It's stressful."
Jack and his dad both said he is always there for him to race. It just made sense to Jeff that his son wanted to do this.
Lori, however, said she is a little more scared of the high speeds, sharp turns and reckless newbies next to her experienced son.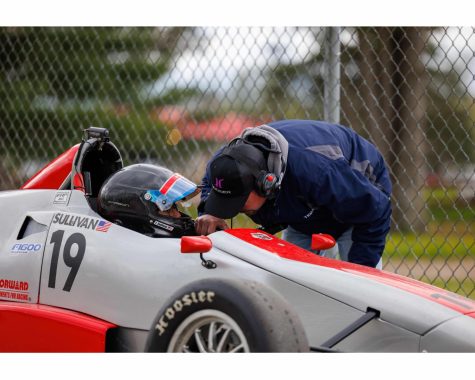 "I'm overly anxious when he's driving," Lori said. "I don't know if I enjoy it as much as other people."
She said she'd rather see Jack work for a team than as the kid behind the wheel. For Jack, that's not an option. He's eyeing the Team USA racing scholarship this year. That award gives young racers the chance to race outside of the United States and get their name out there. Josef Newgarden once received the Team USA scholarship. To the Sullivans, it feels like the next step.
"I have the confidence that I'll be a contender," Jack said.