ShareFest volunteers fill six tractors with donations
On the final afternoon of Oxford's annual ShareFest donation event, timed to Miami move-out, volunteers from local service organizations filled the sixth of six tractor-trailers donated to collect furniture, dishes and textiles.
Volunteers carried canned and boxed goods to a Talawanda Oxford Pantry and Social Services truck nearby at the Chestnut Fields Parking Lot. Last year, TOPSS made it through the summer using donations from ShareFest alone. 
"I have been really pleasantly surprised with how aware the community is," said Olivia Herron, Miami's director of sustainability and ShareFest board member.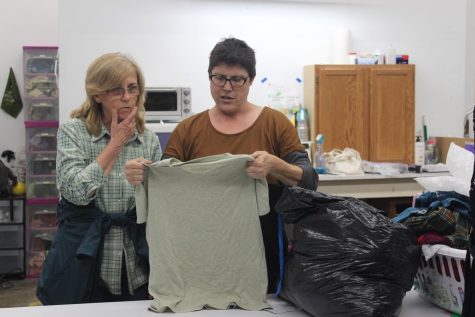 Before COVID, ShareFest provided pick-up services, but logistically it couldn't continue supplying both vehicles and enough volunteers to continue. This year, people were encouraged to bring items to Chestnut Fields. 
To try and curb the number of usable items left as waste, ShareFest placed 150 signs on dumpsters around town to remind people of the option to donate. Some apartment complexes partnered with ShareFest and allowed common areas to serve as item drop-off points. 
However, some volunteers still attempted to drive around and pick up as much as possible. A local handyman charged students $25 per trailer load to cart large items to ShareFest. 
ShareFest founder Carol Michael made the rounds in her red minivan, tirelessly loading and unloading a vehicle full of beneficial things she found left on the side of the road. 
Despite volunteers' efforts, many items were still thrown to the curb or left in the dumpsters of residence halls on campus when Miami students departed for the semester.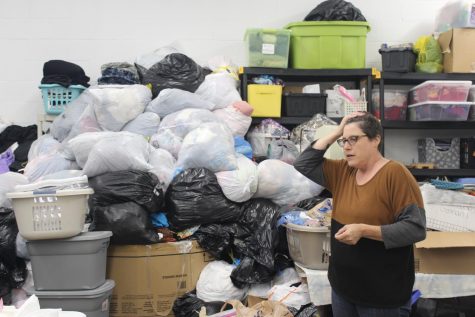 "It feels lazy because whether it's us, or ShareFest, or Goodwill, or whatever, all of this stuff can go someplace," said Shana Rosenberg, founder of Thread Up Oxford and ShareFest board member. Thread Up takes textiles including bedding, rags and stained items. If an item isn't in good enough condition to sell, it is given away or downcycled into usable components like zippers and buttons. 
"It's so much better than adding this massive amount to the dumpsters and to the mess on the streets and landfill, " Rosenberg said. 
Organizations that partner with ShareFest and receive items are expected to provide volunteers throughout the week of the event. Small and local organizations such as TOPSS and Open Hands in Hamilton are the main focus when items are distributed.
According to the ShareFest website, there were seven main recipients this year and four smaller recipients that received small, targeted items such as ZeroWasteOxford and the Myaamia Center. 
Along with service organizations, ShareFest board members and local community members also volunteered their time and effort to make the event happen. 
"I love watching community," Alice Laatsch said. She has helped with ShareFest for 17 years since it started. "It makes me happy when I see my community doing what it should be doing."