Talawanda lacrosse drops home game to Seven Hills
The Talawanda Brave fell short of securing a second win this season, losing at home to Seven Hills High School 9- 4 April 24.
The Brave started out strong with senior attacker Tyler Hazelwood scoring a goal within the first 30 seconds of the game.
After the quick early strike, the Brave had a hard time regaining possession of the ball with only a total of three additional shots on goal for the remainder of the half. As a result, Talawanda trailed the Stingers 5-1 at halftime.
The story was much the same in the second half as the Brave were forced to defend their net for much of the time.
"We have had a lot of new defensemen come in and we have a lot of injuries on it and it is growing a lot more in practice," senior goalie Craig Catania said. 
Seven Hills was able to shut out the Brave in the third quarter, scoring two more goals to extend the lead.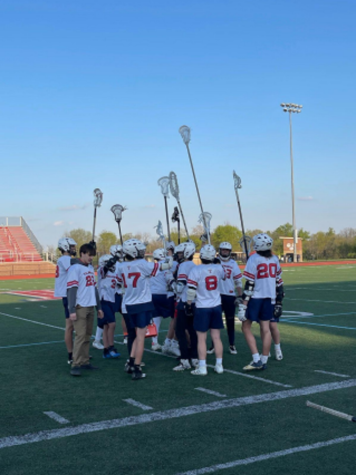 Down 7-1 heading into the fourth quarter, the Brave didn't let the lopsided score determine how the end of the game was going to play out. In the fourth quarter, the Brave netted three goals, including two from junior midfielder Sam Olenick.
Nearing the end of the season with three games left, the Brave are back to practice to get to work to finish out this season strong.
Head Coach Sawyer Johnson said he knows the team needs to work on moving forward.
 "Just understanding the game, possessing when we have been on defense for a while, knowing when to push it, when to slow it down," Johnson said.
Talawanda's record stands at 1-10. The Brave will take the field at Oak Hills High April 29. The team then finishes its season with home games against Wilmington May 1 and Cincinnati Hills Christian Academy May 3.