RedHawks drop high-scoring game to Ohio State
The Miami RedHawk baseball team fought to the end during an offensive battle with the Ohio State Buckeyes, losing 12-11 on April 18.
The game saw both teams use six different pitchers, none lasting more than two innings. The RedHawks recorded 14 strikeouts but also issued 10 walks and hit three OSU batters.
"We weren't consistently competitive enough on the mound to win a baseball game. The guys we put on the mound today are more than capable of going out there and getting outs when we ask them to," said Coach Danny Hayden after the game.
Going into the bottom of the third, the Buckeyes were up 3-1 before an offensive explosion from the RedHawks, led by a Ryland Zaborowski grand slam, gave Miami a 7-3 lead. Zaborowski leads the team in home runs with 14.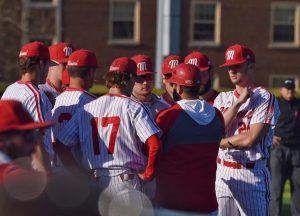 "Right as I hit it, I knew I got it, so that really put us back in the game energy wise," said Zaborowski.
The lead didn't last as Ohio State put up six runs of their own in the top of the fourth to take a 9-7 lead. Miami's Evan Appelwick and Nate Stone both scored in the eighth inning to make it a one score game going into the top of the ninth. A pair of strikeouts and a flyout ended the game 12-11 Ohio State.
"I know we fell a tad short again but I mean offense is where we need it to be," said Zaborowski.
The official attendance of 723 fans at McKie was one of the largest in recent seasons.
"It's the best crowd we've had here in a few years so that was cool to see," said Hayden.
With the loss, the RedHawks fall to 11-28 overall. Miami returns to Mid-American Conference (MAC) play against Kent State (26-10) on April 21 at home.