Oxford BCRTA station to include repair garage and restrooms
Butler County Regional Transit Authority will build a new multi-modal facility at 909 S. Main St. at Chestnut Fields this summer. On Tuesday, April 4, Oxford City Council voted unanimously in favor of an access and construction easement for the facility.
The facility will be more than a bus stop. Currently, BCRTA must transport its buses back to its facility in Hamilton to do repairs and maintenance, wasting gas and staff time, said executive director Matthew Dutkevicz. He said BCRTA plans to make Chestnut Fields its headquarters in Oxford. 
Dutkevicz also said the station will benefit the community because there's no central station in the city.
"[Currently] there is no way finding, there's no signage, there's kind of no central gateway," he said. "This should make it a lot easier for people to navigate the bus system."
The facility will include a waiting area, bathrooms, bike racks and customer service.
BCRTA and Oxford have been working on this project for years. The Ohio-Kentucky-Indiana Regional Council of Governments gave Oxford a $2.1 million grant for the project, and Miami University has provided funds for a "large portion of the system," according to Dutkevicz. 
He said BCRTA expects Miami students to be the primary users of the facility. However, the exact route of the buses from the station is still being determined.
City Councilor David Prytherch said he's excited that so many moving parts were able to come together to create the facility. He also said he appreciated BCRTA for choosing Oxford as the location.
"We're getting a wonderful facility in our community that is paid for by BCRTA," he said. "[It] will benefit all of the city of Oxford."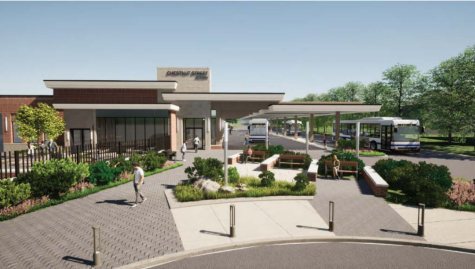 The station will also be used for passengers waiting for the new Amtrak station, which is planned to be completed by 2026, according to City Manager Doug Elliot. Passengers will be able to purchase tickets for the train at the bus facility.
"Our architect has been working with [Oxford's] architect to make the site feel like one location," Dutkevicz said.
The bid opening for the project was expected to take place Tuesday, April 4, but it has been delayed until April 18. Dutkevicz said BCRTA estimates the construction cost of the facility to be about $23.2 million. None of the funds come directly from Oxford taxpayers. 
He said construction should commence in the next couple months.
"Construction prices are kind of crazy, so nobody knows quite what's going to happen until we get those bids in," he said. "But if everything works out… we should have a shovel in the ground this summer."
The station is estimated to be completed in September 2024.