Talawanda baseball boasts alumni-filled coaching staff
As an early season practice begins for the defending Southwest Ohio Conference (SWOC) champion Talawanda High School baseball team, a cheer rings out across the field.
"Work hard on three!" Hands go flying into the air as the team breaks its huddle and moves into fielding position- all under the watchful eye of a close-knit coaching staff.
Noah Zipko, a volunteer assistant coach for the Talawanda baseball team, joined the staff after finishing his college career at Murray State. Although Head Coach Matt Lykins started coaching the same year, the pair followed different coaching paths. After bouncing around positions and following a three-year coaching stint at Lakota West High School, Zipko returned to Talawanda in 2018.
Following the sudden death of former Brave head coach Tim Reed in 2019, Lykins took over as head coach, with the immediate support of Zipko.
 "It was the middle of the season when we looked at each other and thought, this is going to make us the best of friends or we're not going to talk to each other after the season," said Lykins. "And he's still here."
Lykins and Zipko are now celebrating their fifth-year coaching together. Zipko, a Talawanda graduate and former baseball player, knew of Lykins while in school but never had him as a teacher. Although a generation apart in age, the duo now considers themselves a package deal.
 "It's especially strange, I think, as a coach and as a teacher to have someone you knew walking around the halls, and now he's a 31-year-old man," said Lykins.
 The two will tell you that they are the best of friends. At family game nights with their kids, the competition continues as Lykins and Zipko trade their coach titles for Uncle Matt and Uncle Noah.
"We're kind of stuck with each other," said Zipko. "Can't get one without the other."
Lykins and Zipko aren't the only ones with deep Talawanda ties. Of the nine coaches on the Talawanda Baseball staff, six are alumni. Lykins and junior varsity coach Ted Caudill both did not attend Talawanda High School but each has taught at the school for more than 20 years.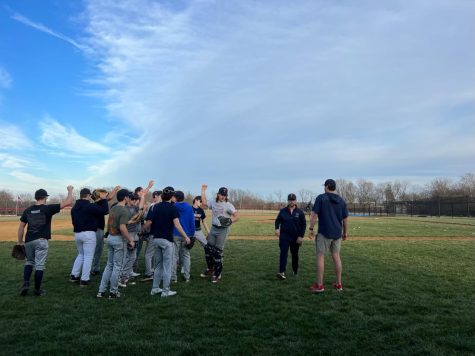 "It's rare that the majority of the staff are either employees or alumni, and I think that's a fun bond to have because it's like hey, we know what you're doing and going through because we did it ourselves," says Zipko.
Dylan Swensen is the only member of the baseball coaching staff that has never lived in the Talawanda district. The Miami University student and Talawanda baseball pitching coach is from Gahanna, Ohio, outside of Columbus. Swensen's high school was much bigger than Talawanda.
"We had probably the same amount of kids on our team and we didn't talk to half of each other," said Swensen. "Come to practice, just do your job and leave. But, as far as I know, it seems like every kid here is friends, a lot of them being best friends. It's definitely a lot closer, which helps them be successful."
The small-town mentality has helped shape the coaching staff, which in turn helps command respect from the players and the broader Oxford community.
"We've had some success now, but you know, if anyone asks, I mean it's Talawanda or nothing," said Lykins. "I don't see myself going anywhere else. I mean, if I'm done with coaching, I'm done with coaching. It's just here. We love this place. We love this town. I've been here for 25 years. So that's how it is."
 As another practice draws to a close, the team collectively raises its fists once more. "Family on three!"