Miami baseball adds talented pool to roster
With a combination of freshman and transfer students, Miami University baseball fans might need to consult the team roster more than once while cheering on the 2023 RedHawks. The team features 16 new student-athletes this spring. Returning All Mid-American Conference (MAC) performers Zach Maxey and David Novak should help ease the transition. 
Head Coach Danny Hayden is excited about the mix of new and returning players.
"It's a deep group, it's a very hard-working group, and it's an incredibly competitive group of young men that I am excited to go play baseball with," said Hayden.
Patrick Mastrian IV, a redshirt sophomore from Indianapolis notes that team chemistry is developing well in spite of all the roster changes. 
"In all aspects, from pitchers to hitting and fielding, we've gotten a lot of talent out of the portal," Mastrian said.
2022 Recap
Last season, Miami finished 23-33 overall and 18-22 (6th place) in the MAC. 
"It didn't go how we wanted it to and we knew we had a lot to get better at moving forward into this season," said Stephen Krause, a redshirt senior from Wilmington, Ohio.
Despite the team's disappointing record, senior starting pitcher Jonathon Brand was named a Second-Team-All-American after posting a 1.40 ERA. The Columbus, Georgia native was drafted in the eighth round of the 2022 MLB Draft by the Boston Red Sox.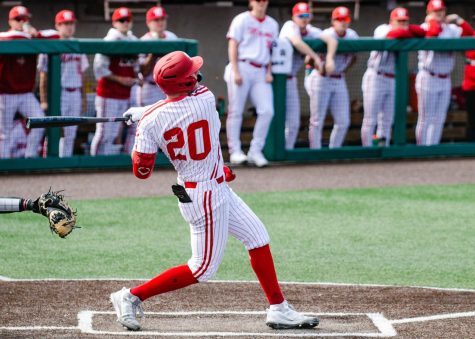 2023 Preview
This year, the RedHawks are picked to finish fifth in the MAC preseason poll. Miami received one first-place vote. Ball State was selected to win the conference, followed by Central Michigan and Kent State.
"I think we've made some strong strides setting us up for a good upcoming season," said Krause, who ranked 20th in the Mid-American Conference (MAC) in RBIs with 44 last year. 
Hayden enters his tenth season as head coach of the RedHawks, with an overall record of  220-239 during his time at Miami. Hayden is assisted by Jeff Opalewski, Bailey Montgomery, and Andy Revell.
"We have more guys who wake up in the morning and they organize their day around baseball, they organize their life around baseball," Hayden said.  
This season's schedule includes 10 MAC three-game series for a total of 30 conference games. The RedHawks will face several Power 5 teams in non-conference play including Louisville, Purdue, and a home game against Ohio State April 18. MAC play has changed from four-game series to three-game series, so there are more non-conference games this season
"I don't think we'll compete nicely in conference, I think we'll dominate our conference this year," Hayden confidently predicted. 
Miami started the season off with a three-game series at Georgia Tech February 17. The team went 0-3 in Atlanta but scored a combined 24 runs across the series. Miami then dropped a 15-3 decision to Indiana on February 21. The RedHawks' early season struggles continued as the team was swept in a three-game series at North Alabama the weekend of Feb. 26. And beat Cincinnati 15-12. The RedHawks home opener is March 4 against Siena.