Talawanda baseball defends SWOC title
Last spring, the Talawanda High School baseball team finished on top, securing its first Southwest Ohio Conference (SWOC) baseball title. The team ended its season with an overall record of 18-8 and 12-3 in the SWOC. Led by 2022 conference baseball Coach of the Year Matt Lykins, the Brave is hoping to continue its winning ways this upcoming season.
2023 Season Outlook
Lykins has seen steady improvement in the team's record since taking over the varsity program in 2019. Following a canceled 2020 season because of COVID-19, the team finished with a record of 17-9 in 2021.
"We're hoping this year to do just as well, if not better," Lykins said. 
Three of the team's starters graduated in 2022, including a shortstop, right fielder and second baseman. All three players also pitched, so defensive replacements had to be found throughout last season.
The Brave anticipate a strong set of returners this spring, including three first-team all-conference players and the SWOC co-player of the year Noah Prewitt. Seniors Max Mesler and Prewitt, both first-team and all-conference players, are expected to build off last season's success.
The team boasts younger talent, including infielder Eddie Tanner, an SWOC first-team selection as a freshman in 2022.
The Team Dynamic
Lykins emphasizes a team-first approach.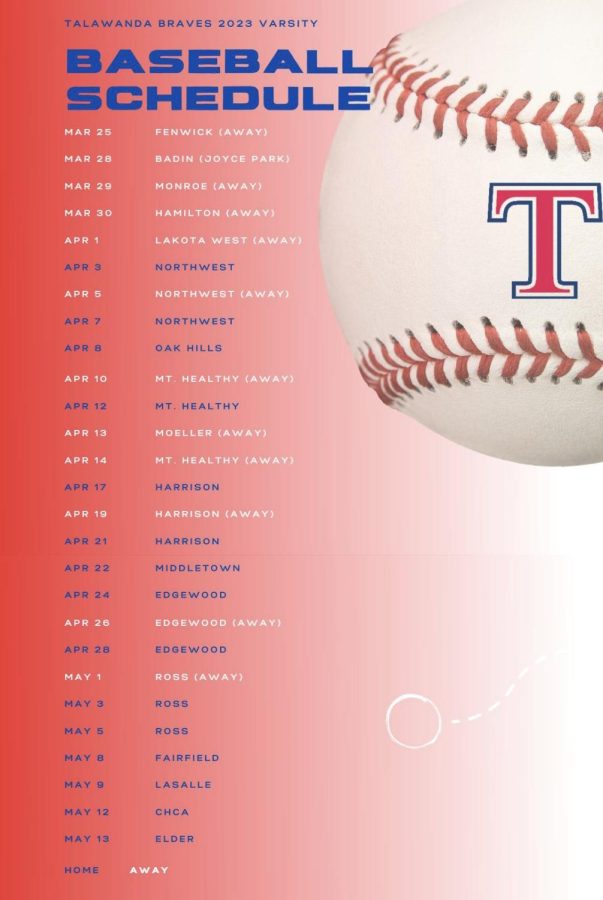 "We are going to run hard, hustle in and out… understand that the things we have installed in terms of plays [mean that] we are picking each other up… and that nobody is more important than the entire team," said Lykins. "Everybody contributes, even if they are sitting that day." 
Talawanda prefers to carry three teams: varsity, JV and freshman. In the past, the program was forced to adapt the Freshman team to a JV-B team due to overall numbers and talent. According to Lykins, signup numbers this spring are "healthy," as 40-plus players vie to make the roster.
Although tryouts are still underway, Lykins is already strategizing for the upcoming season. 
"I think what we really try to stress in terms of our offense and defense is to attack all the time," said Lykins. "We really like to run on the base pass. We like to be aggressive. We like to bunt, we like to move our runners over."
Last season during conference play Talawanda led the SWOC in doubles (28), triples (six), on base percentage (.461) and fielding percentage (.959).
Lykins' coaching staff is a mix of former students and community talent, consisting of assistant coaches AJ Morrow, Trevor Detherage, Noah Zipko and Dylan Swensen. Swensen, a former Miami University pitcher, joins the team for the first time this season as an assistant pitching coach.
"I've always been on the side of the player, so it's cool to have that perspective coming into practice," said Swenson. 
Assistant Coach Detherage has a unique bond with Lykins. Detherage is a former Talawanda High School student and was in Lykins' English class. Now, the pair work side by side on the coaching staff, as Detherage has helped coach first base since 2019. 
"We get to know each other a little bit more. It's not a teacher-student relationship, we can collab with each other, talk about different ideas, things that we can do to help the team get better, different ways to get guys competing," said Detherage. "We are always having fun." 
Tryouts began on Feb. 20 and continue through the week. The Brave begins its regular season March 25 at Fenwick High School followed by a home opener April 3 against SWOC rival Northwest High School.