Talawanda boys tennis team readies for 2023 season
The Talawanda High School boys tennis team is raring to start a new season that will see younger athletes stepping up to shoulder roles left by last year's graduating seniors.
Where They Left Off 
The Brave finished second to Harrison High School in the
 Southwest Ohio Conference
 (SWOC) regular season in 2022. The team captured the SWOC postseason title, and with it continued its five-year reign as overall conference champions.
The Brave finished last season with an overall record of 8-7 and 3-1 in conference matches.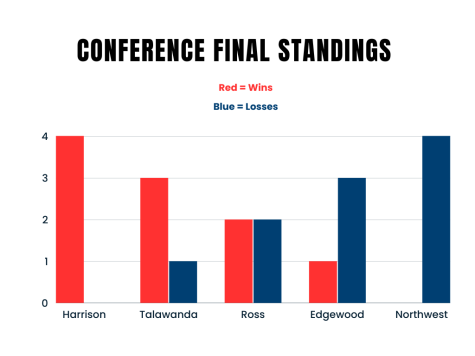 Senior Justin Clawson was awarded player of the year in the SWOC and his brother Jake earned first-team all-conference honors. The Clawson brothers were two in a family of three successful Talawanda tennis players — their brother Jarrett was SWOC boys' tennis player of the year in 2021.
This year will be the Brave's first in a while without any of the three, but Head Coach Pete Thomas is ready to see who will step up to lead the 2023 team.
"We ran out of Clawsons, but we have Milo," Thomas said.
Milo Flaspohler, second team all-conference last season, is now a sophomore and the top player for the Brave.
Alongside Aiden Bruder, who was named the team's first sophomore captain last year, Flaspohler will be fighting for another chance at the conference championship.
 What's Ahead
With the start of this season, Thomas begins his 25th year in the job. He's always believed in learning by doing and challenging his players, and this year will be no different as his freshman son Davis enters the program.
Thomas got him started in tennis and he's practiced hitting, but it'll be his first time playing on a team.
"We'll see how I do," Davis said.
Like his son, Thomas anticipates an adjustment period. With the loss of last year's two best players, the Brave promise to be especially young for the 2023 season.
Sophomore Flaspohler is expected to move up to first singles following an undefeated 2022 season at third singles. Two-year captain Bruder is also expected to play a more prominent role as a junior.
"We're in new territory this year and we'll adjust accordingly," Thomas said.
Talawanda's chief conference competitors, Harrison and Ross, return more of their best players in 2023. Flaspohler says the matchup against a former training partner at Ross is the one he's most looking forward to.
With the majority of the team being younger athletes, Thomas is focusing on giving each player on the court experience and ample playing time.
"There's not a whole lot of instruction … This is how you serve; this is how you do this, go have fun and go play a match," Thomas said, emphasizing the importance of playing matches when a young player is learning.
That won't be hard for new Brave players, as the team is scheduled to play 22 matches in 25 school days starting in late March.
That won't be hard for new Brave players, who are scheduled to play 22 matches in 25 school days starting in late March. The Brave will take on several non-conference opponents from the Greater Catholic League (GCL) before SWOC play begins.
 "We haven't beaten Moeller [High School] once, but we'll keep playing them," Thomas said, "because you don't get better if you don't play better people."