RedHawks softball works to return to NCAA tournament
After Miami softball fell just short in the NCAA Blacksburg (Va.) regional last May, the RedHawks' goal this season is simple: Not only make it back, but advance.
"We set the team goal at the beginning of the season: We're going to the World Series," sophomore infielder Maggie Murphy said. "Every day in practice, that's what we're pushing towards."
Following a dominant 40-17-1 2022 regular season, including a 24-5 Mid-American Conference (MAC) record, the RedHawks split a pair of NCAA postseason games before ultimately falling 5-4 to regional host Virginia Tech in May. This season, MAC coaches predict Miami will repeat as conference champions and return to the NCAA tournament.
An experienced roster
The RedHawks return a loaded roster, including eight players named to the All-MAC teams. Several RedHawks also have been named top-20 players at their positions in America by Extra Inning Softball, including graduate student Allie Cummins and sophomore second baseman Chloe Parks.
No one, however, has received more attention in the pre-season, than junior third baseman Karli Spaid. Spaid was named one of the top three third basemen in the country by Extra Inning Softball and was also named as a top-50 player to watch for 2023 USA Softball Collegiate Player of the Year.
The Redhawks feature several new faces as well. Senior Maddi Banks transferred to Miami from Ole Miss, where she is expected to be utilized primarily as a pinch runner. Freshmen Reagan Bartholomew, Dylan Scott, and Talawanda High School grad Madie Patton look to compete for playing time as well.
On paper, Miami softball has no glaring weaknesses as the 2023 season begins. Despite all of the accolades, the players know they can't lose sight of what motivates them.
"It comes from pushing each other in the weight room, on the field," Murphy said. "We just motivate each other to be the best versions of ourselves."
Head Coach Kirin Kumar, entering her third season with Miami and boasting a 86-27-1 record in that time, has high expectations for her experienced team.
"The preparation is different because we can go faster than we have," Kumar said. "Things that we spent maybe two days on, we're spending half a practice on and expecting them to pick it up."
Assistant Coach Morgan Zerkle returns for her fourth season with Miami, and former RedHawk Courtney Vierstra, a three-time All-MAC first team pitcher, joins the staff.
2023 Schedule 
Miami's lofty expectations will be tested throughout the RedHawks' schedule. The RedHawks will play several marquee opponents in 2023 including Cal, Notre Dame and Stanford.
No game is bigger for the RedHawks this season than an April 16 matchup against the defending national champion Oklahoma Sooners. Junior pitcher Taylor Turner says playing in the game will be surreal.
"Growing up, you watch these teams all the time, but to be able to play them and be on the same field is really cool," Turner said. "It's just really exciting to see how we do."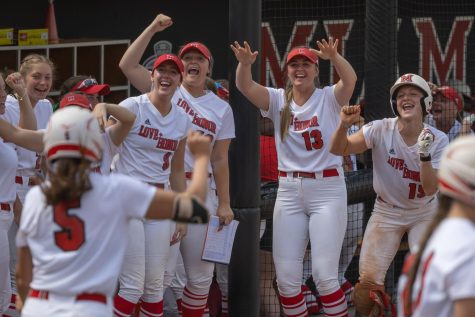 Kumar took convincing six-time national softball champion Oklahoma to come play as a personal challenge.
"I was told that [I] will never get a Power Five school to come to Oxford in April," Kumar said. "It took a little convincing, but [Oklahoma] is one of those teams that will play anybody."
Miami has opened its 2023 season with a 3-2 record, following a split in a four-game tournament in Charlotte, N.C. and a 12-0 home win against Purdue Fort Wayne Feb. 15.
The RedHawks continue its NCAA tournament pursuit with a five-game tournament in Murray, Ky. starting Feb. 24.