Montessori Will Add High School Classes Starting in Fall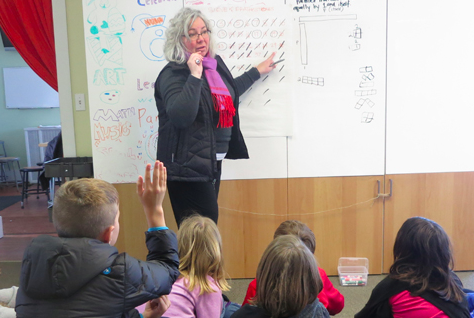 Oxford students will have a new option for high school this fall, when the McGuffey Montessori School begins adding high school classes to its existing preschool to eighth grade program.
The high school program will start with ninth grade, with an additional grade added each subsequent year until the program runs all the way through 12th grade, said Megan Gerhardt, chair of the McGuffey board.
Montessori education philosophy emphasizes independence, self-direction and individualization.
‍
The 68-student school utilizes this distinct approach, where students in the same grade can work on different assignments depending on their placement in terms of development. According to the school's website, kindergartners perform complex science experiments and seventh and eighth graders coordinate details of their class trips.
Students don't receive grades at McGuffey until middle school, but do receive extensive progress reports from their teachers. Another notable difference between Montessori and traditional education are the multiple-age classrooms where older students can mentor younger students.
McGuffey first opened in 1983 after Miami University closed its laboratory school. McGuffey occupies a large, old house at 5128 Westgate Dr., just off College Corner Pike. The school originally provided a "progressive" education before incorporating Montessori principles to the preschool in 2011. Then, it gradually transferred the whole school to a Montessori style in the past few years.
Gerhardt, the mother of a current McGuffey student, believes that education doesn't need a one-size-fits all model. Her belief, coupled with her experience with McGuffey so far, drove her to pursue the addition of Montessori high school.
"There is a lot of passion for the kind of education that comes with the Montessori approach," Gerhardt said. "I have always been passionate about the idea that education takes a different shape for every person."
In conjunction with the board and Head of School Nancy Hawthorne, Gerhardt conducted a feasibility study by visiting other Montessori high schools to learn and observe. The group visited Clark Montessori High School in Cincinnati — the nation's first public Montessori high school. Gerhardt noted that these types of high schools aren't that common, but represent a larger movement towards non-traditional high school.
McGuffey aims to focus on extensive project-based learning and taking the core topics mandated by the state and applying them to real life. Gerhardt wants students to work with the community of Oxford on projects and hold a January intercession for students to explore specialized topics. Hawthorne said that students often find work done at schools like McGuffey more interesting than the work of a traditional school. As a result, McGuffey's students want to learn, she said. Now, parents of McGuffey middle schoolers won't have to fret about where their student will attend for high school.
Gerhardt, a professor of human capital management and leadership at Miami University, hopes the new high school maintains a Leadership Academy within the school. From this, McGuffey students could receive leadership coaching, career exploration, resume insights and interview preparation. She wants the school to capitalize on the plethora of college students in Oxford to offer their own advice to the high schoolers in regard to setting professional and personal goals.
"One of the goals of our board is to work and strengthen our relationship with the community," Gerhardt said. "The hope, in addition to teaching the core subjects, is for students to interact with professionals, give a presentation and do research on a real problem vital to the community and life."
Hawthorne mentioned the importance of ninth through twelfth grade in development and stressed that traditional high schools don't always correlate to how the real world operates.
In terms of the curriculum, Hawthorne said that McGuffey will continue to explore its options and plans to build in flexibility. The school will meet all state requirements for high school education and will require students to take end of course exams. The addition of the ninth grade will not be evaluated by enrollment, but instead through slow and meaningful growth.
"We are going to get a lot of info from our students the first year," Hawthorne said. "We have room to grow and adjust."
For now, the new high school will coexist with the rest of the school. The school intends to open a new building on their current campus by 2020 or 2021 with a space for art, high school, pre-kindergarten, and kindergarten, Hawthorne said.