Oxford to start third phase of bike trail
Oxford plans to award a contract Friday, Feb. 17  to extend the Oxford Bike Path east and south around the city part way between Peffer Park and the Oxford Community Park.
Oxford officials say they expect the total cost of construction for the two segments to be about $4.5 million.
The third phase of the path's construction will include sections from Leonard G. Howell Park to the DeWitt Log Cabin. An additional portion connects Peffer Park to Talawanda High School. The fourth phase constructs a path from Talawanda Middle School to Oxford Community Park.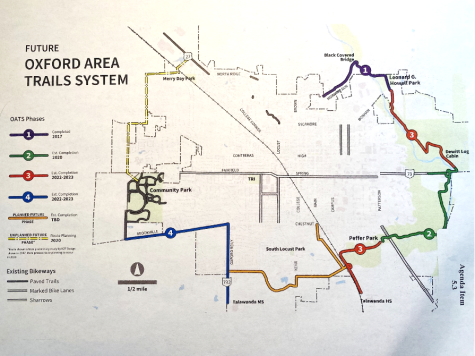 Phase five is planned to begin construction in 2025. It will connect the high school and middle school. 
Oxford City Council created a Bicycle Coordinating Committee that initiated plans for a bike path back in 1973. 
In 2004, the plans kicked into gear when the trails committee hired KZF Design to do a trail alignment study. 
"[Oxford Area Trails] raised their own private dollars and paid for this study," said Jessica Greene, assistant city manager.  "Then they brought that study forward and that design is what was added to the comprehensive plan."
The dream of a connected pathway around Oxford faded in 2008 during the recession. Enjoy Oxford was able to revitalize the project in 2013 by applying for and receiving funding, she said. 
"It's been something that's been planned for a long time," said City Manager Doug Elliott. "We feel strongly that it adds to the quality of life here in Oxford."
The city can afford the Oxford trails thanks to almost $2 million for phases three and four from OKI Regional Council, an organization that distributes money received from Ohio to benefit the Ohio, Kentucky and Indiana. The additional $500,000 grants have come from Clean Ohio. 
Further funds were raised from a 10-year levy passed by the City of Oxford five years ago. The levy collects about a million dollars per year. Elliot said the city anticipates going back to the voters for an additional levy to complete the final phases of the path. 
It's been great to watch how far the trails have come during my time in Oxford, said Matthew Valiga, a graduate assistant teacher at Miami University who has lived in Oxford for six years. 
"It's been a really cool thing to see how much it's developed over time and how much students have started to really get to use it," he said.  "Students really appreciate being able to use the trail system in their own time." 
The biology department also uses the trail for field research that would otherwise not be possible, he said. 
Greene said the trails benefit both tourists and locals who use it for transportation.
"I love that it's connecting to neighborhoods and parks and schools," she said. "Our goal is to get people being able to walk and bike as easily as they can drive a car."