Celebrity chef Hall discusses food, fashion, and authenticity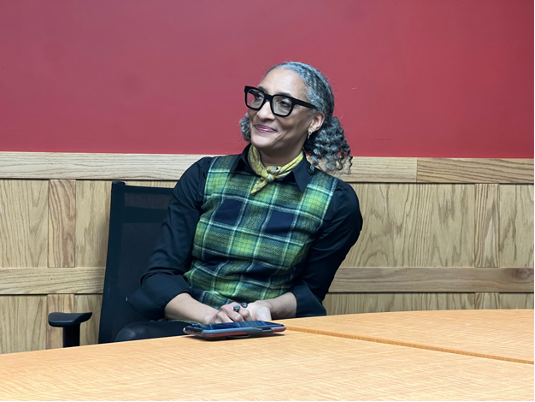 For celebrity chef Carla Hall, both food and performance are ways to connect people with their families, regional heritage, and pasts.
On campus Monday for a Miami lecture series event, Hall went to a group dinner with a handful of Miami students in the Goggin Center's clubhouse. The topic of hot water cornbread came up during a discussion of her recent children's book, "Carla and the Christmas Cornbread," and the connection between food and childhood memories. In Tennessee, her family left out hot water cornbread, not cookies, for Santa.
It wasn't long before the network star was on the phone with the grandmother of Jordan Bishop, a Miami student who grew up in North Carolina, yet knew nothing about hot water cornbread. 
"I live in Atlanta, Georgia, so I was taught how to make hot water cornbread," Bishop's grandmother said. "We have been still doing it for special occasions." Laughing on speakerphone, she promised to teach the recipe to her children. 
"I think that food is a way and recipes are a way that we carry our culture, and that's the most exciting thing," Hall said. "It is honoring people, and it's a medium."
Whether from a short car ride, a 3-course dinner, or the lecture hall stage, Hall projected an authentic interest in connecting with people to, in her words, "tease out the story of history and culture."
"What I do is more about performing than it is about food," Hall said. "For me, food is a vehicle to do all these things, and I have managed to do and pick and choose what I want to do through the lens of food." 
As a model turned chef, Hall is 58-years-old, worked as a professional chef in several Washington D.C restaurants. She got her start on TV by competing on "Top Chef" and "Top Chef: All Stars" which helped her gain her first role as a co-host on "The Chew." Now she is an accomplished TV personality, guest appearing on "Good Morning America" and Food Network's holiday baking shows and authoring several cookbooks and children's books.
Hall said her passion for food started with sharing a weekly brunch with friends when she worked as a runway model in Paris. Her friend Elaine made macaroni and cheese, which sparked conversation about how the group's mothers made the dish. This connection made Hall realize that food brings people together in unexpected ways.
"Food is the one thing, and I didn't realize it then, that allowed me to be myself and be creative," she said.
After moving back to the U.S., as Hall grew as a television personality she wanted to make sure her personal story, and the story of her culture as a black woman from the South, was portrayed accurately. 
"For me, I was constantly asking for a black producer or someone who understood my background as a black woman, as a southerner, somebody who was in their 50s, you know all of that helps to tell your story," she said.
"I'm 58, and it's taken me decades to truly be my authentic self," Hall said. "That doesn't mean I wasn't authentic along the way, but all my experiences have brought me along to that point. I think the best thing about getting older is the wisdom you collect along the way, and honestly, you're too tired to be someone else."