Doughnut Shoppe 'serves smiles' for over 50 years
For more than 50 years, sweet, fresh morning treats at Oxford Doughnut Shoppe have brought together an informal family of long-time customers, "foodies," and dedicated, early-rising employees.
Oxford native Joshua Francis, 40, who bought the Shoppe from its previous owner, said his favorite aspect of working there is that it feels like a family.  
"The people that work here, and the customers who are very invested because they have been coming here for decades, really," Francis said. "Some of them have come before even I bought the place for many many decades." 
Francis' doughnut-making career began when he was 21. "I was in school and had a fraternity brother who was a real estate agent in town. He said, 'Hey, man, the old doughnut shop we used to go to as kids is up for sale,'" Francis said.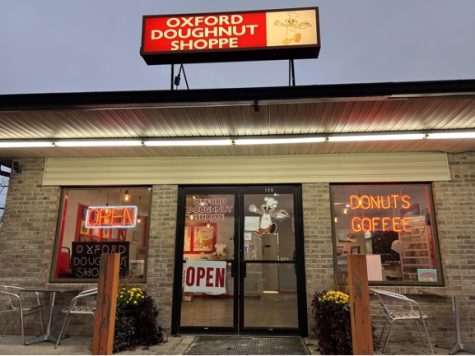 When he bought the shop, Francis was an intern at Fifth Third Bank. "It started off with just me," he said. "I would make doughnuts at night and sell them in the morning, and sleep on the back of a shelf the first few weeks or months into it."
Francis' father, Jack Francis, also worked for him during the last 18 to 19 years. However, his father was hit by a drunk driver last January. He survived but is mobility disabled and unable to help as much as he used to in the Shoppe. Yet, his father still visits when he can, Francis said. 
High school and college employees, several of whom are longtime Oxford Doughnut lovers, fill out the staff of doughnut making, decorating and sales. 
Tatem Linder, an economics major with a double co-major in entrepreneurship and pre-medical studies, joined the Oxford Doughnut family at the start of her junior year at Miami University. She desired a change of pace.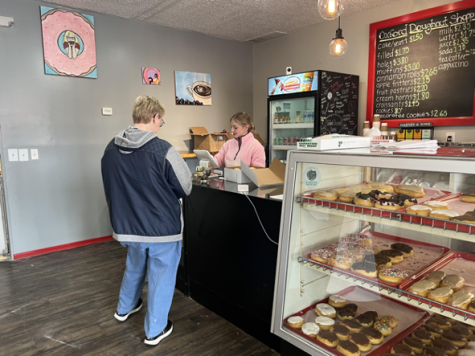 "I think it was about time I stopped taking life so seriously and that maybe the best part of living was to make other people happy," Linder said. "Actually being able to put a smile on people's faces is pretty cool."
Working at the register and decorating the doughnuts, Linder said the Shoppe has a great work environment for anyone interested in joining its doughnut family. 
"The person that decorates them comes at 4 a.m. and they're basically greeted by a bunch of doughnuts that are pre-made," Linder said. "The owner is typically still making doughnuts … sometimes somebody will come in and switch him out around 4 am as well. So, those doughnuts are there and you put them on a tray, icing them so you have three choices of vanilla, maple, and chocolate."
Linder said the most satisfying aspect of her job is "serving smiles" to customers including police officers, workers doing early or late shifts, moms dropping their kids off, and Shoppe regulars from decades before and after Francis owned it. 
"It's kind of cool to see that the community obviously still has a huge demand and love for this place," Linder said. "It's able to be around as long as it has because of it."
Linder said Francis is "humble," "grateful," "quick-witted" and "charitable." She said she hopes that Oxford Doughnuts will be able to bring back its cake doughnuts when more people are hired.
Melisa Bayrum, a senior at Talawanda High School, has been working an evening shift at the Shoppe since August, yet her history with Oxford Doughnuts goes way back.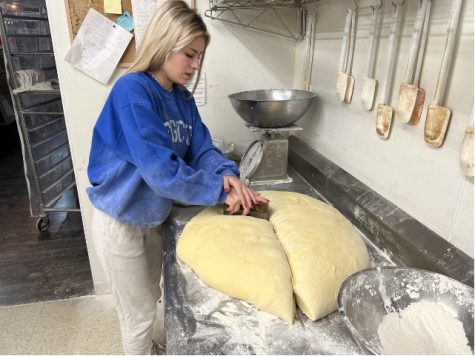 "It's funny. In the sixth grade, when I would have sleepovers with my friends, my parents would get Oxford Doughnuts for us," Bayrum said.
From 2 to 10 p.m., Bayrum works with Francis to fry and prepare the doughnuts and cinnamon rolls for the weekend rush. She said this is the most flexible and amiable job she has ever had. After high school graduation, she plans to keep her job as she continues her education at Miami.
Francis said that Oxford Doughnuts is the first job of many of his employees. 
"I get to teach work ethic and [it] makes me proud to know most of the people who worked here move on to do great things," Francis said.