Miami Students Celebrate Green Beer Day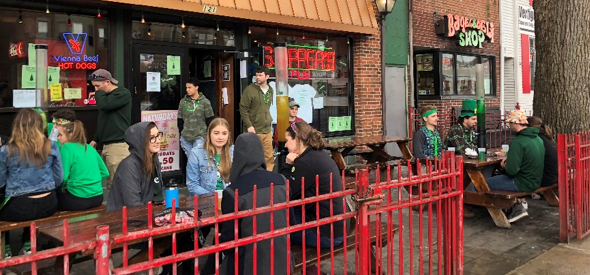 From 11:30 p.m. on Wednesday until Thursday evening, Miami students and local Oxford residents ate, drank and partied uptown and at various house parties, coating the streets in their green shirts, hats, and spirits.
Green-clad partiers talked and laughed on Brick Street Bar's patio, green beer sloshing from glasses. The patio was the most crowded place on the street, with several people seeking shelter under the patio's awning as light rain drizzled down.
‍
‍
Despite the overcast and rainy day, students came out in droves to celebrate Green Beer Day, an Oxford tradition stretching back to 1952.
Designated to take place on the Thursday before spring break, students started drinking late Wednesday and came to uptown in the early hours of the morning Thursday to start drinking green beer, and the celebration lasted all day.
At 3:30 p.m., the "afternoon shift" of drinkers were slowing as the event winded down.
Wednesday Night House Parties
Josiah Collins began his Green Beer Day experience at 11:30 p.m. Wednesday. Instead of hitting the bars, however, he chose to attend a house party on Locust Street in the Mile Square.
When he arrived, the party was relatively small. But the party-goers welcomed him with open arms, and with each new arrival the celebrants greeted them with cheers of "Happy Holidays!"
‍
‍
"The buzz was different than what you experienced at the bars. People interacted more with each other and truly came together as a community to celebrate Green Beer Day," Collins said.
As the number of participants increased to 75 people, more parties began and more bars opened in the early morning. People sang and danced heartily to enjoy the celebration.
With every house Craver passed on her way uptown, the music only grew louder and louder. Even if it rains, it doesn't alleviate people's enthusiasm for celebration at all. They stood outside the popular bar waiting to open the door.
"By 5 a.m., the Brickstreet line was around the corner, and bars like Side and CJ's had the same situation," Craver said "But even after I left, bars were packed with people watching the morning sunrise on the Brickstreet patio."
Afternoon Beer-Time: Bars and House Parties
Despite the number of people out partying between 2 a.m. and 8 a.m., Tyler Groth stressed that people out in the afternoon weren't slowing down in the slightest.
"The biggest reason? Naps and food in the interim, people used lunchtime to give themselves a second wind," Groth said.
‍
‍
As Groth headed to a house party on Vine Street, at 2 p.m., he saw massive crowds and flocks of people.
Within half an hour, the Vine Street party was shut down by police because of noise and littering violations. Residents were warned that if they didn't clean up all the trash, they would be fined.
The Green Beer Day partiers were not deterred, and everyone simply moved to a different house, which can keep the energy alive for many.
At 3 p.m. as Groth and his friends uptown to check out the bar scene, they passed by Brick Street Bar, which was "not as bad… compared to 5:30 a.m.," when the bar first opened.
"The line was shorter but still lengthy, and contained energetic participants looking to enjoy the day," Groth said.
By 5 p.m., the house parties and bars began to empty out. Groth stated that those over 21 might try to go to a less crowded uptown scene to continue, but otherwise, Green Beer Day had come to an end.
‍
‍