AMV invites birdwatchers to guided wetlands trip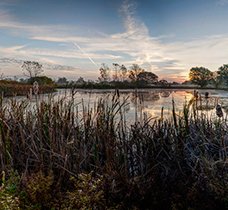 Audubon Miami Valley (AMV) is sponsoring a field trip for local birdwatchers Sunday, Sept. 11 to the Great Miami Wetland Mitigation Bank in Trotwood, Ohio. 
Five Rivers MetroParks which owns the mitigation bank is being tasked with converting the 540-acres of farmland and a golf course to grasslands, forest and wetlands. The conservation agency has already planted thousands of tree seedlings for the conversion.
The trip leaders will depart at 7:45 a.m. from the TJ Maxx parking lot at 550 S. Locust St. Participants may also join the group at 9 a.m. on the site, opposite 8180 Little Richmond Road, Trotwood. 
AMV says participants should bring good walking shoes, water, insect repellent and sunscreen. Those interested in joining an informal picnic should bring a personal lunch. 
More information is available on audubonmv.org or by emailing the field trip coordinator at [email protected].