Talawanda's eighth-grade classes move to remote learning
Talawanda School District's eighth grade classes were switched to online virtual learning as of Thursday, Sept. 23, due to large numbers of positive COVID-19 tests and quarantined students, the district announced in an email to parents on Wednesday.
"Remote learning will continue until at least Sept. 29, except for those still in quarantine or isolation", Talawanda Superintendent Ed Theroux said in the email. "The spread of COVID-19 within our 8th grade is very concerning."
According to the email, more than 36% of eighth grade students are quarantined or have tested positive. The COVID-19 dashboard on the district website states there are 80 quarantined students and five active cases at Talawanda Middle School.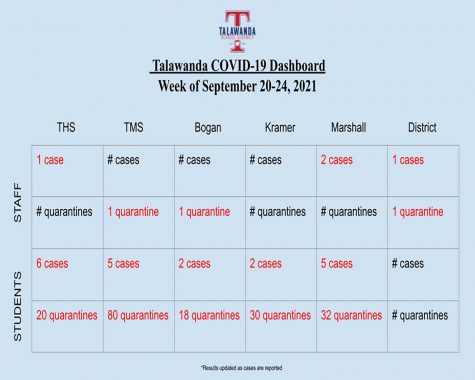 Theroux said he is hoping that "a short-term closing will help stop the spread."
In addition to students not reporting to school, all eighth grade extracurricular activities, including sports and the homecoming parade have been cancelled for eighth graders. 
The email states that over the next five days, students will return to Zoom classes and complete assignments and receive academic support from their homes.
Students who are quarantined or isolated later than Wednesday, Sept. 29, must stay home until the quarantine/isolation period is completed as directed by Butler County General Health District (BCHD).
"Individuals are allowed to take a proctored Binex test or a COVID-19 test on the fifth, sixth , or seventh day of quarantine, and return to school on the eighth day, if they can submit proof of a negative test to the administration or to the school nurses," the email said. 
Although the possibility of moving the eighth graders to virtual learning was not discussed at the Sept. 20 school board meeting, several members of the public offered a range of perspectives on Talawanda's current pandemic plan and mask mandate.  
"They do not have our consent to force our son to wear a medical device," said Christopher Williams. He said he considered a mask to be such a device and disagrees with the district's rule that all students, staff and visitors in the schools must wear them. He said he hopes the school board will get rid of the mask requirement if enough parents speak up against it. 
The school board is following the guidelines of the Butler County General Health District, which says unvaccinated students, regardless of whether or not they are wearing a mask, must quarantine if seated within 3 feet of a confirmed case for more than 15 minutes during a 24 hour period.
Talawanda mother Becca Asher complained to the board that one of her four children was quarantined twice within only the first 13 days of school: once due to a classroom exposure and once because of athletics.
While many of the attendees applauded complaints about the current COVID-19 mask regulations, Aaron Abbott, a visiting assistant professor in the Sociology and Gerontology Department at Miami University, spoke in support of the parents who did not attend the meeting.
"There are quite a few silent parents that appreciate that [the board] had the foresight to put a mask mandate in place prior to the school starting," Abbott said.