Oxford Area Trail System seeks input for routes of final phase
Oxford Area Trail System (OATS) project planners are seeking public input on possible routes for the fifth and final phase of the trail, connecting the Oxford Community Park to the trail at Morning Sun Road.  
OATS is a 12-mile, ADA accessible trail that will surround the city once it's completed. During an Aug. 11 meeting, Assistant City Manager Jessica Greene said OATS will expand vehicle-free options for travel, improving connectivity between community parks. At the meeting, several options for the project's final phase were presented. 
"This would improve recreational opportunities for those with little kids learning to ride their bikes and skateboard or taking a jog with a stroller," said Greene.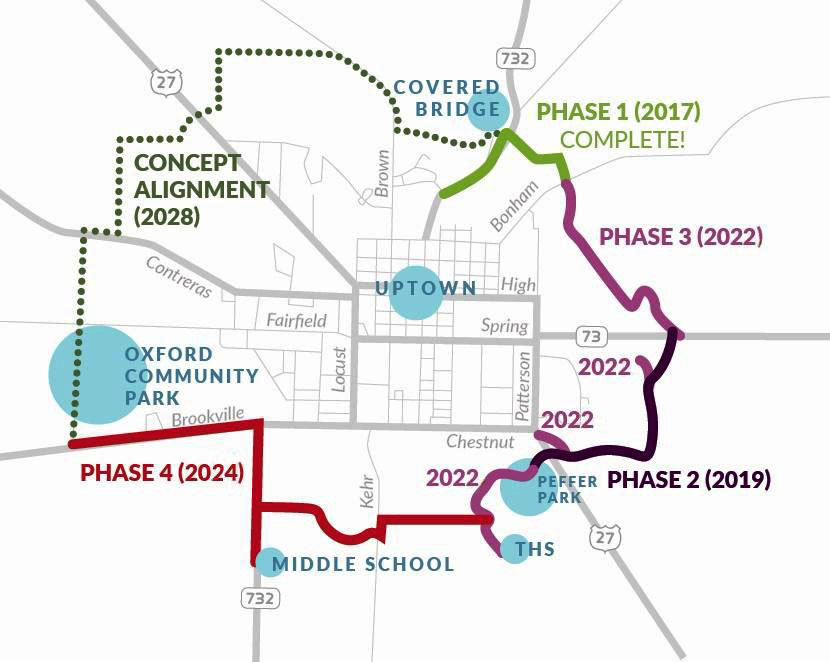 Oxford Area Trails has been partnered with Bayer Becker, a design consulting firm, since the beginning of the project. Bayer Becker Design Consultant and Project Manager Etta Reed presented the options for the final stage at the public meeting. 
"We started with the alignments from 2007 and evaluated those with additional routes based upon changes in the community," Reed said. 
Reed proposed two types of routes– urban and rural. Rural routes are off-road on private property, while urban routes are adjacent to existing roadways on public property. Some urban routes require streets to change to single-side parking and install a tree line between the trail and road. Rural routes will include a 2-foot wide shoulder on each side of the trail. Both route types consist of 10-foot wide paved paths.
Each of Bayer Becker's recommendations are rated on safety, user experience, access to the community, cost, land acquisition and environmental impact. The development team will take comments and concerns raised at the meeting and in comments to the consultants for consideration before making its final recommendation. 
"Based on community feedback, we'll reevaluate the alignments, make some adjustments and then come up with a preferred recommendation," Reed said. 
Public comment is open and welcome until Sept. 11 here. 
After making its final recommendation, the project team will prepare a preliminary design with an estimated cost to present to the City Council for approval. Once approved, the grant application process will begin for funding, Green said. 
There is currently no cost estimate for this stage of the project. 
In addition to grants, the project is funded by a property tax levy passed in 2018. The levy costs owners 0.325 cents for each $100 of assessed value. 
The project is being developed in five stages. The first stage, connecting Morning Sun Road to Leonard G. Howell Park, was completed in 2017. The second stage, connecting the DeWitt Log Homestead to Peffer Park, was completed in 2020. 
The third stage, connecting Leonard G. Howell Park to the DeWitt homestead, and the fourth stage, connecting Oxford-Reily Road to Oxford Community Park, are currently underway and scheduled to be done sometime between 2022 or 2023. The plans to connect the Oxford Community Park to the trail at Morning Sun Road will complete the project, with a 2021 fall reveal. 
To see the entire plan, virtual materials and meetings, visit Oxford Area Trails.