Enthusiasts show off Triumph cars at Hueston Woods
Lymon Ketron traveled from Kingsport, Tennessee to Hueston Woods to show his classic Triumph sports car at the Triumph Register of America's 2023 national meeting June 18 to 23. 
Ketron got the red convertible as a high school graduation present. Now, he's had the car for 53 years. 
Unfortunately, it "got sick" about two days before the meet so he had to arrive in his Buick, he said.
The Triumph Register of America is a non-profit organization that celebrates classic British sports car models produced between 1953 and 1967. It is the only organization focused specifically on the TR2, 3, 3A, 3B, 4 and 4A models, according to its website.
The group started in the Dayton area, participant Brarry Cox said. About 80 registrants from around the country participated in the meet at Hueston Woods this year, while an estimated 300 are registered with the organization in total, Cox said. 
In previous years, Cox and Ketron drove as far as Texas and Oklahoma to participate in meets. They said they make sure to have plenty of spare parts and tools for fixing any problems that arise during the trip.
"The adventure is just getting there," Cox said. "It's just fun to go and see what happens."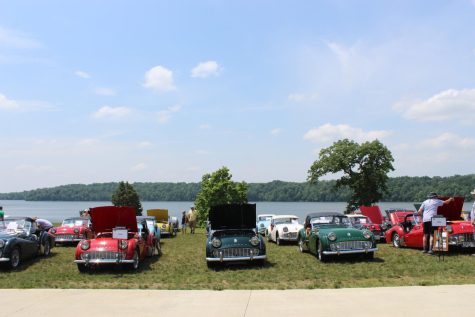 Triumphs with classic colors ranging from red, blue, yellow and white lined the Hueston Woods parking lot. Their pristine paint shined and reflected whatever ray of sunshine it could find on the cloudy June 20. The outsides appeared effortlessly polished, but the insides of the aged automobiles proved to be quite the chore to upkeep. 
A group approached Cox and Ketron looking for information on the pull-along cab Cox had with his Triumph. He was happy to share how he found the little trailer on Facebook Marketplace and show off the cab's different compartments, including a built-in cooler.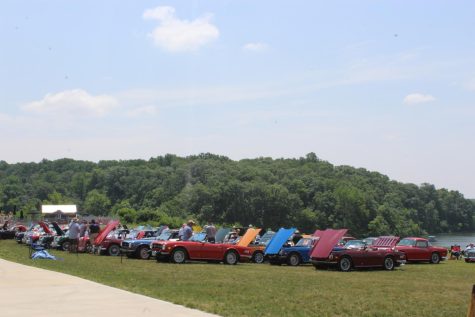 The participants rely on each other for learning more about their cars and providing a helping hand if something goes wrong. For example, Cox said the starter wasn't working on his car during the show the morning of June 20, so Ketron had to push him around and help him find the loose wire. 
"It's really an accomplishment every time you go somewhere and make it back," Ketron said. 
The meets don't have anything in it for the participants, except the possibility of a trophy for winning. Learning ideas and tips from the other participants is what makes it worth it, Cox said.