Gov. DeWine celebrates Inland Fish Ohio Day at Hueston Woods
Ohio Gov. Mike DeWine and about two boatloads of family members congregated at the Acton Lake boat launch inside Hueston Woods for Inland Fish Ohio Day  June 3.
Dozens of Ohio Department of Natural Resources employees and multiple state park workers accompanied the governor to support fishing across the many inland lakes of Ohio.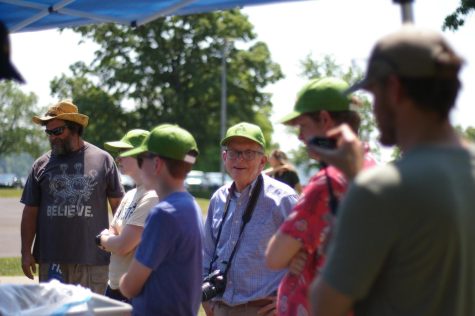 This year marked the fourth annual Ohio Inland Fish Day held by the ODNR Division of Wildlife and the Division of Parks and Watercraft. The event is used to encourage Ohioans to go outside and enjoy the many places to fish within the state according to Rick Rogers, the Division of Wildlife District 5 manager who oversees Southwest Ohio.
Out of Ohio's $3 billion fishing industry, $2 billion comes from inland fishing, with the remaining $1 billion residing in Lake Erie, according to Ohio wildlife communications specialist Kathy Garza-Behr.
According to ODNR director Mary Mertz, after last year's successful outing at Deer Creek Lake, southwest of Columbus, Gov. DeWine selected Acton Lake without any second thoughts.
"He must have fond memories of the area," Mertz said. "He chose Hueston Woods right after last year and didn't let anyone change it."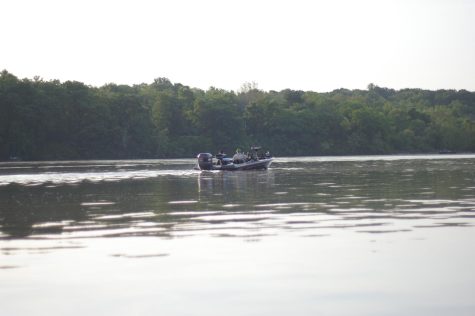 As the morning got underway, a fleet of nine boats left the docks. Two of the boats were reserved for the large DeWine family, while the rest were filled with various ODNR employees including director Mertz and division of wildlife chief Kendra Wecker.
The mission: to catch the most fish in the three-hour window before a fish fry later that day.
As the director's boat neared the middle of the lake, her competitive nature reared its head. Lucky for Mertz, New Holland Police Chief and Crappie USA fishing tournament winner Jason Lawless captained her boat.
"I have to beat the governor," Mertz said. "I won't hear the end of it if he wins."
"Don't worry," Lawless said. "No one is fishing like we are."
Lawless's system involved four poles and constant trolling in a large oval from the middle of the lake to the banks. It proved successful as Mertz reeled in two Fish Ohio trophy-sized Crappies at 13.5 inches and 14.5 inches.
With the boats back at the dock, the fish caught during the outing were cleaned and fried by state park workers and served. 
During the fish fry, Rogers announced that Mertz's 14.5 inch Crappie was the largest fish, while the DeWine family, which pooled their fish,  won for the smallest and greatest number of fish.
"We just want people to get out to the parks and have fun outside," Mertz said.