Toledo Rockets rock Miami tennis
A week after losing a close match on the road at the University of Toledo, the Miami women's tennis team welcomed the Rockets  April 14 to Oxford. Unfortunately, the change in venue did not change the outcome for the RedHawks as the team dropped its home match to its Mid-American Conference (MAC) rivals 6-1.  
The match began with doubles competitions where Miami's Catherine Denysiewicz-Slowek and Laura Rico beat the opposing pair of Rockets 6-3. The remaining two doubles matches didn't go as well for the RedHawks as Emilia Valentinsson and Sara Zalukar lost 7-5 and Jutte Van Hansewyck and Mayu Ushio lost their match 6-3.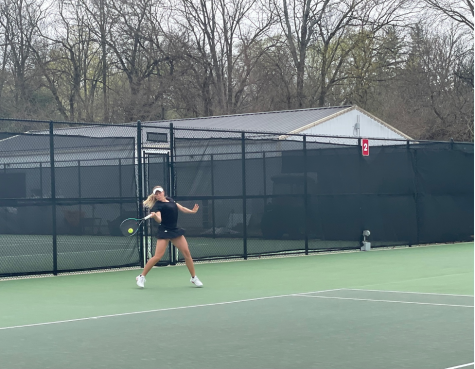 Following her doubles match, Denysiewicz-Slowek went on to win her singles match in a tie-breaking third set 11-9. She was the only RedHawk to win in singles.
 "I knew it was going to be hard," Denysiewicz-Slowek said, "especially since last week I lost in three sets. I knew it was going to be a tough match, but I just kept swinging and kept trying."
Miami Head Coach Ricardo Rosas said he was disappointed with the result but looked forward to meeting the Rockets in two weeks during the MAC playoffs.
"I have confidence in the team that we will bounce back and continue to play and finish strong," Rosas said.
With the win, the Rockets stand at the top of the MAC with an 8-0 record in conference play (17-3 overall).
Toledo's Head Coach Tracy Mauntler could hardly contain her enthusiasm after the match.
"I'm just super proud of how we're playing right now," she said. "This is where you want to be at this point in the season."
Mauntler added that she enjoys beating the RedHawks because they have the most MAC titles in women's tennis, so a win against such a historically dominant program felt especially satisfying.
Following a victory April 16 at Eastern Michigan, the RedHawks now stand at 4-4 in the MAC (10-12 overall). Miami hosts Northern Illinois April 21 in Hamilton and then wraps up the MAC regular season play with a game against Ball State April 23 in Oxford.