Telling stories through tables: Oxford company designs custom tables
Tree to Table is a local furniture company in Oxford, which produces custom tables that can take as long as three months to build.
The company was founded by Miami University student Vilppu Anttila and University of Cincinnati student Ryan Murphy in 2017. 
Murphy said the first table they made is in his house on Country Club Drive, where he still eats on it every day. He said the friends once made plans for their company during Wednesday night dinners on that table.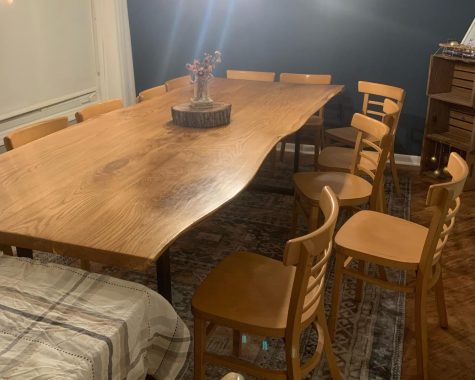 "That table is so beautiful!" Anttila said.
Anttila and Ryan say they have learned that every table has a story. The table that they named their company after was built for a missionary couple who felt God told them to move to Oxford. 
The couple had to cut down a tree that was located where they wanted to build their house. They left the log for seven years, then asked Anttila and Murphy to build them a huge table so they could host church activities.
The Tree to Table founders said they believe that tables are a place for people to share their food and build strong communities.
"Our hope is to see many oaks of righteousness take root across the nation. We invite everyone to come to our house and eat together," Ryan said.